Video shows Indian police beating anti-lockdown mob, not separatist protesters
A video viewed tens of thousands of times is circulating in social media posts that claim it shows police beating Muslim separatist protesters in India's restive northeastern state of Assam. In fact, the footage shows police in Uttar Pradesh roughing up members of a mob who attacked them for enforcing Covid-19 restrictions.
"Assam Muslims took to the streets to demand a separate country but look what they received in return," reads a Hindi-language tweet posted on May 2.
"Assam's chief minister is two steps ahead of Yogi," the post adds, apparently suggesting the state's leader Himanta Biswa Sarma takes a more heavy-handed approach towards Muslims than his counterpart Yogi Adityanath, the chief minister of Uttar Pradesh.
Both leaders belong to India's Hindu nationalist Bharatiya Janata Party (BJP), which critics accuse of trying to marginalise the country's 200-million-strong Muslim minority.
The video, which has more than 13,000 views, shows a montage of clips of police chasing, beating and detaining people in the street.
Police brutality is widespread in India.
A screenshot of the misleading post captured on May 7, 2022
The government's 2019 "citizenship list" in Assam -- which has a large Muslim population -- left off almost two million people who were unable to prove they were Indian, many of them Muslims.
The same year, the government passed a similar nationwide law to fast-track naturalisation for minorities from neighbouring countries -- but not if they were Muslim.
The controversial move prompted nationwide protests in 2019, and the government has since paused its implementation.
Covid-19 crackdown
The video was viewed more than 70,000 times in similar posts on Facebook here and here and on Twitter here and here.
However, the claim is false.
A reverse image search of a keyframe from the video on Yandex traced it to a report by Indian news channel Times Now.
The report from April 6, 2020 is titled "Coronavirus scare: Crowd attacks Bareilly Police for enforcing a lockdown".
Times Now reported that a crowd attacked police for enforcing a lockdown in the city of Bareilly in Uttar Pradesh. The culprits also reportedly attacked healthcare workers before they were caught.
Below are comparisons of screenshots from the video shared in false posts (left) and Times Now's report (right).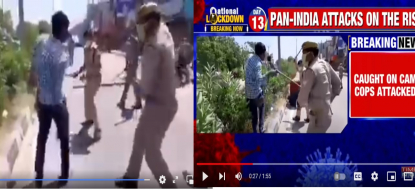 Comparison of the video shared in false posts (L) and Times Now's report (R)
Comparison of the video shared in false posts (L) and Times Now's report (R)
The police can be heard saying "Go inside" in Hindi while beating a young man at the 02:10 timestamp in the video shared in false posts.
Another report by TV9 Bharatvarsh shows the clip, in which a police officer, flanked by colleagues, patrols a village holding a microphone saying in Hindi: "We've been standing here for 24 hours for you! You guys are attacking the police? Now if you have the courage, come out onto the road!"
Below is a comparison of screenshots from the video shared in false posts (left) and TV9 Bharatvarsh's report (right).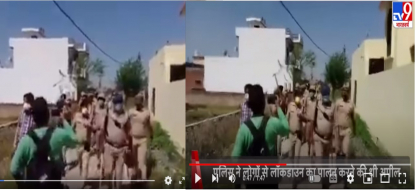 Comparison of screenshots from the video shared in false posts (L) and TV9 Bharatvarsh's report (R)
Various news outlets Republic TV, Dainik Jagaran, News Nation and News 18 also reported on the attack.
While Assam and other states in northeast India have seen decades of unrest among ethnic and separatist groups, AFP could not find any recent reports of Muslims pro-separatist demonstrations in the state, as of May 10, 2022.