Posts praising hardline Indian Hindu politician drinking from water pump share years-old photo
A photo has been shared thousands of times in Facebook posts that claim it shows Indian ruling party politician Yogi Adityanath drinking from a water pump in the street. The posts praise the firebrand Hindu monk for living an apparently simple and unpretentious life despite being re-elected chief minister of India's most populous state Uttar Pradesh. However, the photo was taken in 2016, more than one year before Adityanath was first elected as chief minister.
"You might have seen chief ministers quenching their thirst with a bottle of Bisleri water, but have you ever seen a chief minister who goes and drinks from a manually-operated water pump?" reads a Hindi-language Facebook post from April 9.
Bisleri is an Indian company that manufactures bottled water.
The post -- which has been shared more than 10,000 times -- was posted on a Facebook page with more than 950,000 followers.
Yogi Adityanath is a hardline Hindu monk who was first elected as chief minister of Uttar Pradesh in March 2017 after the ruling Bharatiya Janata Party (BJP) won the State Assembly elections. 
He has implemented a string of policies seen by critics as anti-Muslim. He was re-elected in Uttar Pradesh -- home to more than 200 million people -- in March 2022 after the BJP claimed victory in the state again.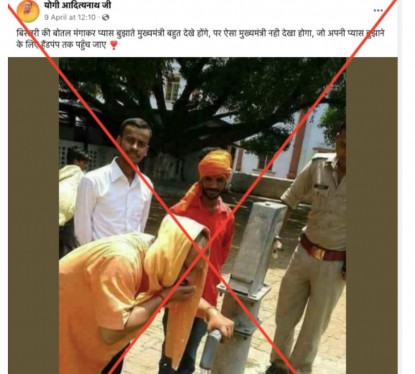 Screenshot of the photo shared in a misleading Facebook post, taken on April 25, 2022
The image was shared alongside a similar claim here and here.
The posts attracted many comments from social media users who praised the chief minister for his apparent humility.
"I've never seen such a humble and a simple chief minister," one person commented. 
"A million salutations to Yogi, I am seeing a humble chief minister for the first time in my life," another user wrote.
However, the photo was taken before Adityanath first became Uttar Pradesh's chief minister.
Old photo
A reverse image search found the same photo was previously shared on Facebook on April 26, 2016.
The Hindi-language post translates as: "Parliamentarian from Gorakhpur and possible future chief minister of the state Uttar Pradesh, loved by Hindus; Yogi Adityanath.
"This image shows the simplicity of the man; the photo is credited to Hargovind Pravah."
Hargovind Pravah told AFP he took the photo in 2016 when Adityanath visited Gorakhpur in Uttar Pradesh.
Adityanath was elected as a parliamentarian for the Gorakhpur constituency in the 2014 general elections before he took office as chief minister of Uttar Pradesh in 2017.
Below is a screenshot comparison of the photo shared in the misleading posts (left) and the same photo shared on Facebook in 2016 (right):
Screenshot comparison of the photo shared in misleading posts (L) and same photo shared on Facebook in 2016 (R)
The same photo was shared in several other Facebook posts in April 2016 -- including here and here.