Facebook posts tout fake US mortgage stimulus program
Facebook posts featuring a video viewed hundreds of thousands of times claim US homeowners are entitled to more than $3,750 under a federal mortgage stimulus program. But government officials and the Better Business Bureau say no such program exists.
"Second Chance to Claim Mortgage Benefit," says the title of the video in an April 11, 2022 Facebook post. 
"The current authorities have decided to roll out (an) extension on MORT 3, which allows homeowners in all 50 states to claim over $3,750 back in their pocket," a narrator says in the video, which begins with an image of Speaker of the House Nancy Pelosi standing in front of an American flag.
Screenshot of a Facebook post taken on April 15, 2022
The claim -- which also appeared on Facebook here -- comes as mortgage rates are climbing in the United States and inflation has hit a  40-year high.
A reverse image search shows that the clip of Pelosi is unrelated to a mortgage stimulus, and instead comes from a joint session of Congress on January 6, 2021 to certify Joe Biden's Electoral College victory in the 2020 presidential election.
Clicking on the link in the post leads to a website that features an image of a check labeled "United States Treasury."
The site asks for personal details including first and last name, email address, phone number, age, zip code, credit score, and home address, but does not offer the promised compensation.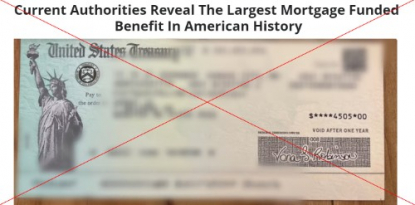 Screenshot of an online article taken on April 15, 2022
US Treasury spokeswoman Elizabeth Bourgeois told AFP the administration does not have such a program.
The American Rescue Plan -- which was signed into law in March 2021 -- did however include $10 billion for the Homeowner Assistance Fund, and people can find out more about their state's program on the Consumer Financial Protection Bureau (CFPB) website, Bourgeois added. Aid amounts and eligibility for that program varied by state.
A CFPB spokesman said that the agency was not aware of a federal program as described in the social media posts.
The United States Department of Housing and Urban Development (HUD) gave a similar response, saying: "This is not a HUD program, nor a program we are familiar with."
Sandra Guile of the International Association of Better Business Bureaus also dismissed the claim.
"Currently, there's no Congress mortgage stimulus program," she said, adding: "Consumers are encouraged to research any type of mortgage lender or debt relief type programs carefully."
Eligible Americans have received three stimulus payments from the Treasury since the beginning of the Covid-19 crisis, but none were earmarked specifically for homeowners.