Footage of accidental fire in Bangladesh wrongly shared as 'attack on Hindus'
A video has been viewed thousands of times in Facebook posts that claim it shows Hindu homes targeted by arsonists in Muslim-majority Bangladesh's southern Bagerhat district. While a Hindu man's house was genuinely attacked in Bagerhat on April 11 over a controversial social media post, the footage shows an accidental fire in Chattagram district that happened weeks before.
"Breaking news. Miscreants set fire to several Hindu households in the Amorbunia village of Morrelganj Upazila in Bagerhat district of Bangladesh," reads a Bengali-language Facebook post from April 11.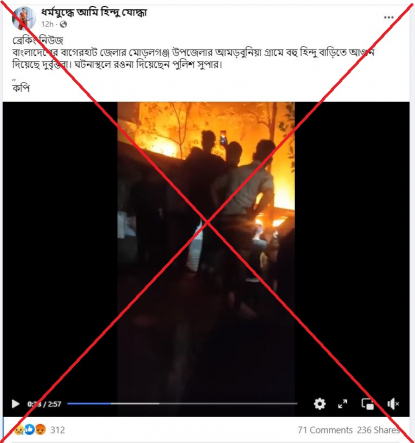 Screenshot of a Facebook post sharing the misleading claim, taken on April 13, 2022
Hindus make up about 10 percent of Bangladesh's Muslim-majority population and have often fallen victim to communal violence in the country of 169 million.
On April 11, locals vandalised the home of a Hindu man in Bagerhat and set a haystack on fire after he allegedly posted offensive Facebook posts about Islam, the Dhaka Tribune reported.
Police arrested 18 people after the attack, including the man whose house was targeted for allegedly stirring up religious tensions.
The video was viewed more than 30,000 times in total in Facebook posts, including here, here and here.
However, the posts are misleading.
Keyword and reverse image searches found the same footage posted in a Facebook Live broadcast on March 18.
The Facebook post reads: "Hindu households of Kabirajbari Pakash in the western side of Samitirhat area caught fire."
Samitirhat is a union council under Fatikchhari Upazila of Bangladesh's southeastern Chattagram district.
Below is a screenshot comparison of the video shared in misleading Facebook posts (left) and from the Facebook Live from March 18 (right).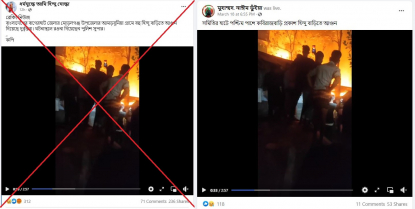 Screenshot comparison of the video shared in misleading Facebook posts (L) and from the Facebook Live from March 18 (R)
From the video's 0:18 mark, a man can be heard saying several times in Bengali: "Dear people, good evening. There is a deadly fire in Kabirajbari of Samitirhat area. Please everyone come forward to help."
According to a local media report, a fire engulfed 14 Hindu homes in the Samitirhat area on March 18 after a live electricity cable fell from a pillar.
Contacted by AFP, Mohammad Nayem Bhuiyan, who posted the Facebook Live on March 18, said he was the man speaking in the video of the fire, which happened in his village.
Mohammad said in a Facebook post that his video was being shared in the wrong context.
"I condemn those spreading false information saying this video shows miscreants setting fire to Hindu homes in Bagerhat," he wrote.
"I live recorded this video on March 18 in Kabirajbari, where an electric short-circuit caused the fire."
Fatikchhari fire station officer Dolar Tripura told AFP the fire in the video happened in Samitirhat on March 18.