Photos of India citizenship law protest misrepresented as 'mosque attack victims'
Photos appearing to show men in white shrouds laying on the ground are circulating in Facebook posts that claim they are victims of an unspecified mosque attack in the Indian capital Delhi. In fact, the photos have circulated in news reports about demonstrators protesting a citizenship law in February 2020 in western Maharashtra state.
"Heartbroken. Oh God, Hindus set fire to the mosque in Delhi and martyred my brothers," reads a Bengali-language Facebook post shared on March 29.
The post calls for the removal of Indian Prime Minister Narendra Modi, whose Hindu-nationalist Bharatiya Janata Party (BJP) has been accused of trying to marginalise India's 200 million-strong Muslim minority.
Critics say religious minorities in Hindu-majority India have faced increased levels of discrimination and violence since Modi came to power in 2014.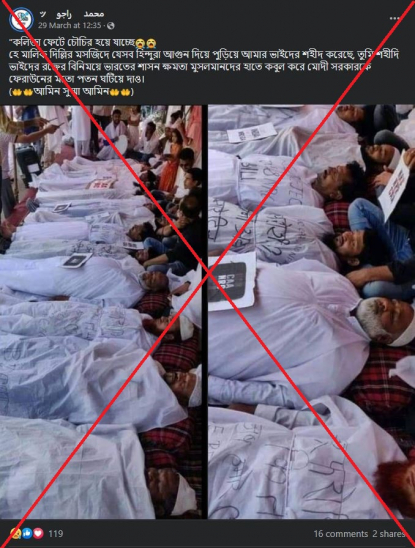 Screenshot of the misleading post, taken on March 31, 2022.
The photos were shared in Facebook posts as early as February 2020, after a mosque in Delhi was set on fire in a spate of deadly clashes between Hindus and Muslims.
The rioting, in which more than 40 people were killed, was sparked by the Citizenship Amendment Act (CAA), passed in 2019, which makes it easier for religious minorities from three neighbouring countries to get Indian citizenship -- but not if they are Muslim.
Many Indian Muslims feared the legislation was a precursor to a proposed National Register of Citizens (NCR), which could leave them stateless.
The photos recirculated on Facebook here and here in March 2022, but it was not clear if the posts were referring to the Delhi riots in February 2020.
Shroud protest
However, the photo has been shared in a false context.
A Google reverse image search found the photos in a news report about protesters who donned white strouds in a stunt against the CAA in February 2020 in India's western Maharashtra state.
Local news outlet JJP News reported on February 24, 2020 that protesters wore the shrouds -- typically used to wrap bodies before burial -- in support of other demonstrations in Delhi. 
"We are getting distressing images from Aurangabad, where people are seen protesting against the CAA-NRC Act wearing shrouds for dead bodies," the Hindi-language report reads.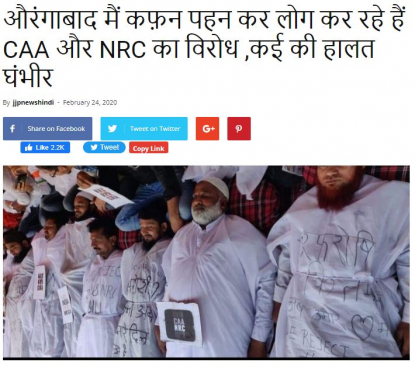 A screenshot of JJP News's article featuring one of the photos in misleading posts, taken on April 7, 2022
Visual clues in the photo indicate it was taken at the protest.
A man in the centre of the photo is wearing a sign that reads "CAA NRC", in reference to the citizenship law and national registry.
Lines from the poem "Sarfaroshi Ki Tamanna" by Bismil Azimabadi, which paid tribute to Indian independence fighters, are also written on the shrouds.
"The desire for revolution is in our hearts, we shall see how much strength lies in the arms of the enemy," reads the text.
Footage showing the demonstration was posted on YouTube on February 24, 2020.
The video shows a man with a microphone chanting,"We will win freedom, we want freedom" in Hindi, while a crowd gathered beside the shroud-clad protesters replies "azadi", a popular slogan against oppression that has sprung up at protests in India and Pakistan.
Meanwhile, the protesters in the video are clearly alive. Various men are seen with their eyes open, while the man wearing the "CAA NRC" lifts his head at the 00:12 mark.
AFP previously debunked posts linking the same photos to a deadly fire in Pakistan.