Doctored images circulate after International Women's Day marches in Pakistan
Images that appear to show women holding controversial placards at rallies to mark International Women's Day in deeply conservative Muslim Pakistan have been shared repeatedly on social media. Comments on the posts indicated some social media users believed they were genuine. In fact, the images have been digitally doctored to insert controversial messages.
One image was shared here on Twitter on March 9, 2022 alongside a caption that reads: "Meanwhile #AuratMarch in Pakistan".
The placard appears to read: "God please give me a penis I want to rape men".
Rallies for International Women's Day -- locally known as the Aurat March -- have been the subject of fierce backlash in Pakistan since they were first held in the South Asian country in 2018.
Critics have accused rights activists of promoting liberal Western values and disrespecting religious and cultural mores.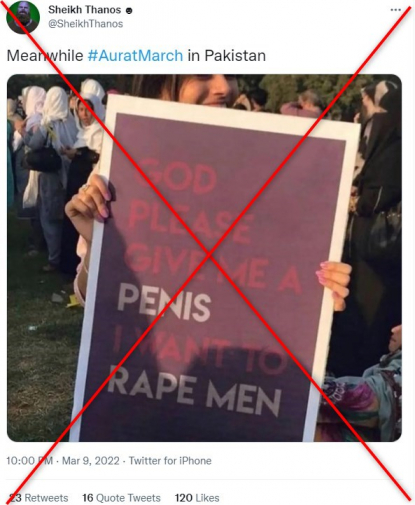 Screenshot of the false post. Taken on March 10, 2022.
The image was also shared alongside a similar claim on Twitter here, here and here.
Another image was shared here and here in Facebook posts that circulated in the northeast city of Gujranwala.
It appears to show a woman carrying a placard that reads, "Gujranwala's Khota Pali Chowk should be renamed to Khoti Pali Chowk."
Khota Pali Chowk is a colloquial reference to an area in Gujranwala. "Khoti Pali" is a play on a derogatory Urdu-language phrase that translates as "female donkey".
Screenshot of the false post. Taken on March 10, 2022.
Comments from some social media users on the posts indicated they believed the images were genuine.
"So it's not about rights of women, it's just about being rapists.. No wonder they are nothing but bunch of hypocrites [sic]," one wrote in English.
Another said the activists "have gone insane" and "should be locked inside kitchen [sic]...and embrace their natural habitat."
However, the placards in the images have been doctored.
Human rights
A reverse search found the first image was originally published by Dawn News on March 9, 2018.
The original image shows a placard that reads, "Girls just wanna have fundamental human rights."
"Karachi's Aurat March 2018 took place yesterday and hundreds showed up to assert women's rights to reproductive, economic and environmental justice," the report reads.
Below are screenshots comparing the doctored image (left) with the genuine photo published by Dawn News (right):
Screenshot comparison of the doctored image (left) and the original photo (right)
The original image was also published by the Turkish media outlet Bianet on March 13, 2018.
Gender pay gap
A further reverse image search found the second image in this report by Pakistan's MM News on March 8, 2022.
The genuine text in the placard shows a romanised Urdu message.
It translates to English as: "This is me, this is my salary: Rs. 5000. And I can't 'pawrry' in this."
"Pawrry" refers to a popular meme that pokes fun at class inequality in Pakistan.
"Pakistani women are protesting on International Women's Day across the country to reclaim their space in society, and speak up for their rights," the report states.
The photo was also posted here on Facebook by ApniISP, a Pakistan-based entertainment news website.
Below is a screenshot comparison of the altered image (left) with the image published by MM News (right):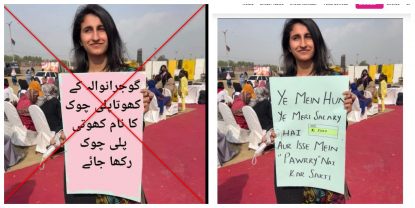 Screenshot comparison of the altered image (left) and the original photo (right) ( AFP / )
Doctored images targeting the organisers of International Women's Day rallies in Pakistan also circulated in 2021, AFP reported here.
Similar images were debunked in 2020 by AFP Fact Check here.