Video has circulated in reports about raid related to Mexican drug lord, not Ukrainian president
A video has been viewed hundreds of thousands of times in multiple Facebook posts that claim it shows the Russian military "storming the Ukrainian president's house". This is false; the clip has circulated since 2016 in reports about a raid that led to the arrest of Mexican drug lord Joaquin "El Chapo" Guzman. As of March 14, 2022, Russian forces have not seized control of the presidential palace in Ukraine's capital Kyiv.
The two-minute 43-second clip was shared here on Facebook on March 6, 2022.
It shows a group of armed, uniformed men storming a house.
The post's Bengali-language caption translates to English as: "Video of Russian forces storming the Ukrainian president's house."
Screenshot of the misleading post taken on March 9, 2022.
Russia's invasion of Ukraine has led to a mounting civilian crisis.
On March 14, fighting raged in the Kyiv suburbs as Russian forces advanced ever closer to the capital, AFP reported.
Only roads to the south remained open and Kyiv was preparing to mount a "relentless defence", according to the Ukrainian president's office.
Ukrainian President Volodymyr Zelensky has vowed to remain in Kyiv. He has shared updates from his office in the capital as recently as March 14.
The same video was viewed more than 700,000 times in posts here, here, and here on Facebook alongside a similar claim.
However, the claim is false.
Drug lord arrest
The footage has previously circulated in news reports about a raid that led to the arrest of Mexican drug lord Joaquin "El Chapo" Guzman in 2016.
Guzman was one of Mexico's most powerful drug dealers, and his Sinaloa cartel expanded across the world.
A reverse image search using keyframes from the footage found a video clip published by US newspaper the Wall Street Journal on its YouTube channel on January 13, 2016.
The video's caption reads: "Video Released of 'El Chapo' Guzman Raid."
Text shown at the beginning of the video says the footage was captured on body cameras worn by Mexican marines during a shootout with gunmen in Los Mochis, Mexico on January 8, 2016.
It credits the video to the Mexican government.
The video shared in the misleading posts has been mirrored and edited from this old footage.
Below are three screenshot comparisons of the mirrored video in the misleading posts (left) and the WSJ video (right):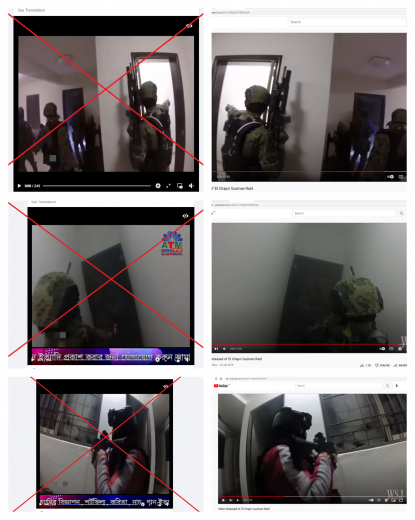 A screenshot comparison of the video in the misleading posts (L) and the video published by the Wall Street Journal (R) ( AFP / )
Shortly after the raid, Guzman was captured and sent back to the maximum-security prison he escaped from six months earlier, AFP reported here.
UK newspaper The Telegraph and US broadcaster ABC News also shared similar footage of the drug lord's arrest.
AFP has debunked a wave of misinformation following Russia's invasion of Ukraine here.