Footage shows Ukraine in 2022, not Russia in 2018
Social media posts claim US broadcaster ABC misrepresented a video of a 2018 gas explosion in Russia as footage from the war in Ukraine. This is false; the clip was shot in Ukraine by a Turkish news agency, and a similar video from AFP confirms that the incident took place following Russia's 2022 invasion of its eastern European neighbor.
"These Pictures are from a Gas explosion in 2018," says a February 24, 2022 tweet responding to a video posted by ABC that shows firefighters attempting to extinguish a burning building.
Screenshot of a tweet taken on March 1, 2022
The same claim -- which spread online after Russia invaded Ukraine on February 24 -- also appeared on Facebook.
ABC -- which declined to comment on the situation -- attributed the video to Turkish news agency Anadolu, which also tweeted the footage directly on its verified Twitter account, locating it in Chuhuiv, Ukraine.
AFP also filmed the same burning building in Chuguev -- a city whose name can be transliterated with different spellings -- providing further confirmation that the incident took place in Ukraine in 2022.
While posts on social media claim the Anadolu footage tweeted by ABC shows a gas explosion, comparisons of images from the 2018 blast in the city of Magnitogorsk (left) and footage of the burning building (right) make clear that they were two distinct events.
Emergency workers take part in a rescue operation after a gas explosion rocked a residential building in the Russian city of Magnitogorsk on December 31, 2018 ( AFP / )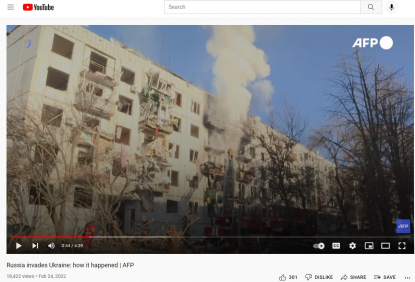 Screenshot of a YouTube video taken on March 2, 2022
AFP Fact Check has debunked other inaccurate claims related to the conflict in Ukraine here.