Old photos circulate in misleading posts claiming Ukrainian president led troops on the battlefield amid Russian invasion
Several images of Ukrainian President Volodymyr Zelensky wearing camouflage, a bulletproof vest and a helmet have been shared on social media with claims that he was leading his soldiers on the battlefield as Russia invaded its eastern neighbour. However, the claim has been shared out of context: the photos were taken last year when Zelensky visited troops several times in the pro-Russian separatist region of Donbass in Ukraine.
At least 11 photos of Zelensky in uniform have been shared in social media posts, praising Ukraine's leader for helping troops to repel the Russian advance on key cities.
Israeli Jewish influencer and human rights activist Hananya Naftali published one of the images on Facebook on February 25, 2022, the day after Russia invaded Ukraine.
"This is the President of Ukraine Zelensky," reads the caption on the post with more than 72,000 shares. "He took off his clothes and put on a military uniform to join the troops in fighting to protect the Ukrainian homeland. He is a true leader."
Screenshot taken on February 27, 2022, showing the misleading Facebook post
The image and another similar one have also been shared with the same claim in French and Spanish.
Meanwhile, other posts in Africa (archived here and here) have included multiple images of Zelensky in what appears to be battlefield gear.
Zelensky in Donbass, December 2021
A reverse image search for the Facebook image published by Naftali led to the original on global photo agency Getty Images. It was taken on Ukraine's Armed Forces Day on December 6, 2021.
"Ukrainian President Volodymyr Zelensky visits the front-line positions of Ukrainian military in Donbass, Ukraine," reads Getty's caption.
At the time, 44-year-old Zelensky was on a working visit to the Donbass region, which encompasses Donetsk and Luhansk, the two Russian-backed breakaway republics in the east of Ukraine.
Another photo from Getty Images of the same visit also features in a related Facebook claim published in Sri Lanka.
Zelensky in Donbass, October 2021
In Nigeria, Joe Igbokwe, the special adviser on drainage and water resources to the Lagos state governor, shared three different images of Zelensky in military gear, with the identical claim.
Screenshot taken on February 27, 2022, showing the misleading Facebook post
One of Igbokwe's images shows Zelensky shaking hands with a Ukrainian soldier. Another shows the president walking along a trench while the third is of Zelensky in the company of seven soldiers.
AFP Fact Check traced the origin of the first photo to Getty Images. It was taken on October 14, 2021, when Zelensky visited the Donbass region during celebrations marking Defenders and Defendresses of Ukraine Day.

The other two images shared by Igbokwe were from an even earlier visit by Zelensky to Donbass.
Zelensky in Donbass, April 2021
Further reverse image searches helped trace Igbokwe's second picture of Zelensky in a trench to an article from The Guardian.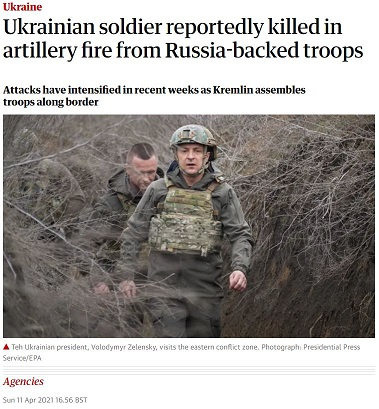 Screenshot of the image used by The Guardian, taken on February 28, 2022
Using the caption, AFP Fact Check found the same image was published by the Ukrainian Presidential Press Office on April 8, 2021. The photo, like the third photo shared by Igbokwe showing Zelensky in the company of seven soldiers, was taken during Zelensky's April 2021 visit to the same Donbass region.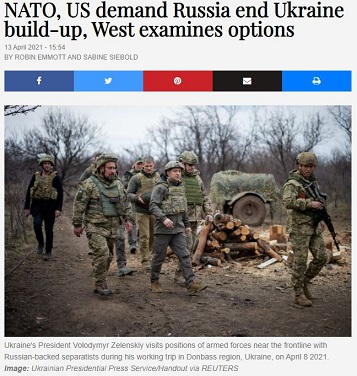 Screenshot of the image on TimesLIVE, taken on February 28, 2022
Furthermore, AFP Fact Check found that some images among a larger set of photos taken on the same day in April 2021 also accompany other online posts claiming Zelensky had joined his forces on the frontline.
For instance, an image of the president again walking through a trench can be found in the 17th row of the photo set while the next row features a similar Facebook image of Zelensky holding a helmet.
Composite image of the two Facebook photos ( Ukrainian Presidential Press Office)
Zelensky in Donetsk, February 2021
Images from another trip by Zelensky, this time to the Donetsk region on February 11, 2021, were also used to make misleading claims. This Associated Press image was shared here in a false context while another one published by the National Security and Defense Council of Ukraine was also misrepresented.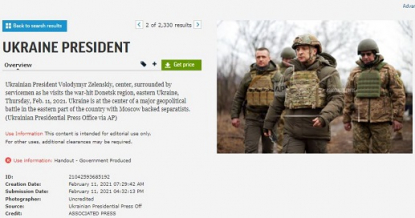 Screenshot of one of the images on Associated Press, taken February 28, 2022
Finally, a Getty Images' photo from the same day was shared in this Sinhalese post claiming that "Ukraine's president leaves his presidential attire and joins the battlefield with soldiers of his country."
A week later, Zelensky inspected weapons of Ukrainian coast guards in Mariupol, Donetsk region, but his image was later miscaptioned in posts shared in February 2022.

Fighting between Russian forces and Ukrainian troops has claimed dozens of civilian lives since February 24, 2022, and could displace up to seven million people, according to EU estimates.
AFP reported that since Russia's invasion last Thursday, the Ukrainian comedy actor-turned-president has used skills honed on the stage to deliver stirring messages on social media, usually appearing without a bullet-proof vest or helmet.
On February 25, the day after Russia invaded, Zelensky filmed himself standing in the dark near the presidency building with his advisors, saying "we are all here" in an attempt to counter disinformation that he had abandoned his post.
"Our military is here. Citizens in society are here. We're all here defending our independence, our country, and it will stay this way," he said.
Deep respect to President @ZelenskyyUa and the brave people of #Ukraine

The spirit of a free and democratic #Ukraine is strong. pic.twitter.com/vOIZA3FoYE

— Charles Michel (@eucopresident) February 25, 2022
The next day, he posted another self-made video in front of the presidency wearing what has become his crisis uniform: a military-style khaki T-shirt coupled with a soft green jacket. In the 40-second video, he refuted Russia's claims that he had fled Ukraine.
"Lately there has been a lot of fake information online that I call on our army to lay down arms and to evacuate," reads his statement translated into English.
"Listen, I am here. We will not lay down our weapons. We will defend our state, because our weapon is our truth. And the truth is that this is our land, our country, our children. And we will defend all of that."
Не вірте фейкам. pic.twitter.com/wiLqmCuz1p

— Володимир Зеленський (@ZelenskyyUa) February 26, 2022
Zelensky has vowed to remain in Ukraine despite the fact that he has been identified as the primary target of the attacks.
March 2, 2022 This article has been updated to change the header image and to amend metadata