This photo has been doctored -- it does not show a genuine campaign billboard in India
Posts circulating online during elections in India's most populous state Uttar Pradesh have shared an image alongside a claim the opposition Bahujan Samaj Party erected a billboard at a metro station in the state capital promoting women's rights. This is false. Although the BSP has advocated for women's rights, the image has been digitally altered. Representatives for the metro station and the party separately told AFP no such campaign billboard had been erected in the metro station. 
The image was shared on Facebook here on January 25, 2022.
The post claims to show a billboard in Lucknow, the state capital of Uttar Pradesh.
The image's Hindi-language caption translates to English as: "Women will be safe and secured from BSP's governance.
"Billboards of the BSP campaign have been put inside the Lucknow metro stations, long live Kanshiram, long live Mayawati, BSP's victory confirmed in 2022."
The Hindi-language text on the billboard translates as: "Women will be safe and secure when the BSP is in government."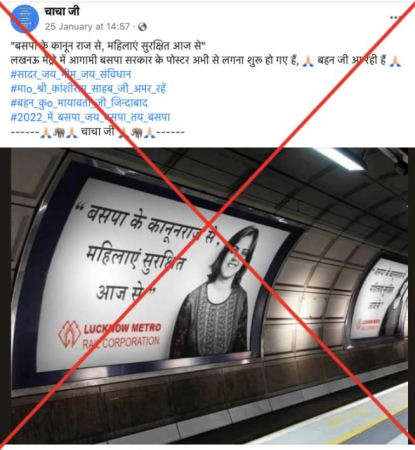 Screenshot of the misleading post taken on February 20, 2020
The BSP is a political party based mainly in Uttar Pradesh state.
It was founded in the 1980s by the social activist Kanshi Ram, and has been led by his protege Mayawati since 2003.
In a campaign speech, Mayawati has said that under the ruling Hindu nationalist Bharatiya Janata Party -- which the BSP is taking on in ongoing state elections -- women and people of backward castes are not safe.
The image was shared alongside a similar claim here and here on Facebook; and here and here on Twitter.
However, the posts are false.
Responding to the misleading posts, a representative for the Lucknow metro authority told AFP: "No such poster is available inside the Lucknow metro stations."
BSP spokesperson Faizan Khan separately told AFP on February 23: "The billboard does not belong to our party; we have not installed our campaign billboards inside any metro station in Lucknow."
Doctored image
A reverse search found the image shared in the false posts corresponds to a design template on billboard generator websites Behance and Pikbest.
The template had been digitally altered to insert the purported BSP campaign billboard.
Below is a screenshot comparison of the image in the false Facebook post (left) and the image from Behance (right):
A screenshot comparison of the image in the false Facebook post (left) and the image from Behance (right) ( Uzair RIZVI)