DMX masters are not being purchased by Jay-Z and Beyoncé
The death of US rapper Earl Simmons, commonly known as DMX, was followed by claims that Jay-Z and Beyoncé are purchasing his musical masters -- the original recording and licensing of a song -- for $10 million. This is false according to a representative of DMX and family members.
"Jay Z & Beyonce are buying back DMX's masters for $10 Million & will give to his kids for free," says an April 11, 2021 post on Facebook, which was later deleted.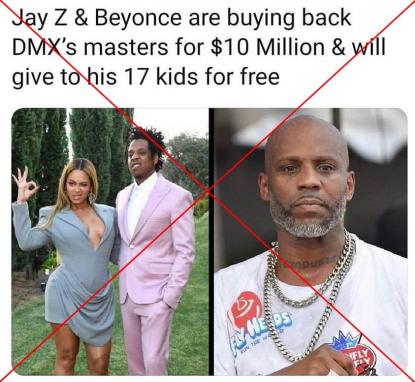 Screenshot of a Facebook post taken April 13, 2021
The claim spread on social media platforms after the rapper died on April 9, 2021 following a heart attack days earlier, and it appeared on Facebook here and here, Instagram here and here and Twitter here. Many such posts garnered thousands of likes.
The post shows a photo of musicians Beyoncé and Jay-Z alongside an image of the rapper, best known for the songs "Ruff Ryders' Anthem" and "Party Up (Up In Here)."
"There is No Truth to those rumors from what I know, the family issued a statement yesterday clarifying that those rumors just are not true," Jason Fowler, a representative of DMX told AFP in an email, in response to the claim.
A statement issued by DMX's family directly addressed these claims stating that "No one has bought Earl's masters," while also warning fans to be wary of scammers claiming to be raising money for his funeral.
A flood of social media posts had called for the recording label Def Jam Records to return DMX's masters to his family after his passing. DMX had known financial issues with the label and often discussed how he felt taken advantage of.
Screenshot of a tweet posted by American rapper Emilio Rojas, taken April 14, 2021
Hip Hop Overload -- a popular entertainment news site -- was the first to post the unverified report on their website and social media accounts. Other sites including hiphophotness.com quickly followed, posting a similar article that they later took down.
Def Jam Records, released a statement on Twitter following the rapper's death. They make no mention of selling or giving away the licensing to any music.
Representatives for Beyoncé and Jay-Z did not respond to AFP's request for comment about the claim prior to publication.
DMX is the first rapper to have his first five albums debut at No. 1 on the Billboard charts and representative Fowler speculated that they are worth more than $10 million.
"From what I know from working with X, his ma(s)ters are worth more than the amount that is attached to that rumor so it just doesn't make any sense at all," said Fowler.
DMX also had a well-known rivalry with Jay-Z, dating back to the early 90s making the reasoning behind the rumors unclear.