Clip shows Biden criticizing discrimination, not support of Trump
A Twitter account run by Donald Trump's campaign claims a video clip shows his Democratic rival Joe Biden calling the US president's supporters the "dregs of society." But the remark is from a speech in which Biden was condemning discrimination against the LGBTQ community, not people who back Trump.
"Joe Biden called Trump supporters the 'dregs of society.' The idea that Biden is a unifier is a joke," the @TrumpWarRoom account, which is managed by the president's campaign, tweeted on October 6, 2020.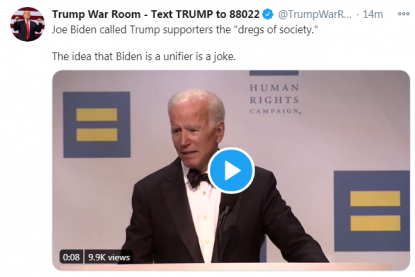 A screenshot of a tweet taken on October 6, 2020
The remark -- had Biden been hitting out at people for supporting the president -- would have been similar to 2016 Democratic candidate Hillary Clinton saying half of Trump's backers could be put "into what I call the basket of deplorables," a comment that hurt her in the election run-in.
But Biden's full remarks at a September 2018 Human Rights Campaign dinner make clear he was opposing discrimination rather than people's broader political leanings.
Biden did refer to supporters of Trump's administration in his remarks, but only to say that some want to roll back progress on LGBTQ rights.
"We've faced with an administration and some of its most ardent right-wing supporters from the Ku Klux Klan, the head of the Ku Klux Klan has endorsed, and the alt-right, who are trying to undo all the progress you have made," he said.
Biden did not make the "dregs of society" comment until after an intervening three minutes in which he again criticized discrimination, in reference to what he termed "the forces of intolerance," not Trump supporters.
"Despite losing in the court and in the court of public opinion, these forces of intolerance remain determined to undermine and roll back the progress you all have made. This time, they, not you, have an ally in the White House. This time, they have an ally. They're a small percentage of the American people, virulent people, some of them the dregs of society," he said.
AFP Fact check has previously debunked manipulated videos of Biden that Trump has spread on social media, as well as an ad from his campaign that featured doctored images of his Democratic rival, and a clip used to falsely claim that he botched the Pledge of Allegiance.
This fact check is available at IFCN's 2020 US Elections FactChat #Chatbot on WhatsApp. Click here for more.