This clip has circulated in reports since 2017 about flooding at an airport in Mexico
A video of a flooded runway has been viewed tens of thousands of times in multiple posts on Facebook, YouTube and Instagram alongside a claim it shows an airport in the south Indian city of Hyderabad after the city experienced heavy rains in October 2020. The claim is false; this clip has circulated in reports since 2017 about flooding at Mexico City International Airport in August that year.
The 28-second video was published in this Facebook post on October 14, 2020.
The text overlay on the video reads: "International Airport, Shamshabad, Hyderabad". The post's caption reads: "This is the international airport of Hyderabad".
Hyderabad houses one international airport in Shamshabad, a locality on the outskirts of the south Indian city. The airport's official name is Rajiv Gandhi International Airport, but it is known locally as Hyderabad International Airport.
Hyderabad experienced heavy rains in October 2020, causing widespread flooding. AFP photos published here show the extent of damage caused by the prolonged rain. 
The video was also shared here and here on Facebook and here and here on Instagram alongside a similar claim.
It was also shared in a misleading context by several Hyderabad-based media outlets on YouTube, including Spot News Channel here and Journalist Report here.
The claim, however, is false.
A reverse image search on Yandex using keyframes extracted from the video using InVID-WeVerify, a digital verification tool, found an identical video published here on the Twitter account of Mexico's Reporte Indigo news website on August 31, 2017.
Part of the Spanish tweet translates to English as: "So this is Mexico City International Airport this afternoon, service is suspended from 18:40 hours."
#QueNoSeTePase Así el @AICM_mx esta tarde. El servicio está suspendido desde las 18:40. https://t.co/8XXhlAfv3i pic.twitter.com/eeTRkKq1fL

— Reporte Índigo (@Reporte_Indigo) August 31, 2017
Below is a screenshot comparison of the video in a misleading post (L) and the Twitter video (R):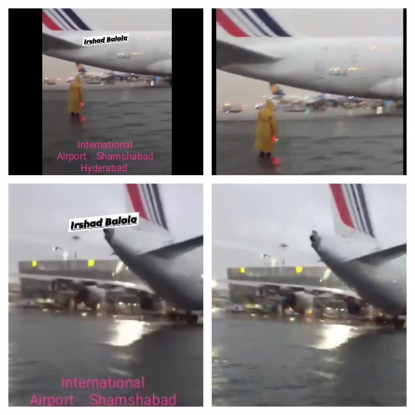 Mexico City International Airport also published this tweet on the same day which reads: "For safety and due to weather conditions, landing and take-off operations are temporarily suspended."
✈️#AICMinforma Por seguridad y debido a las condiciones meteorológicas, se suspenden temporalmente operaciones de aterrizaje y despegue. ⛈

— @AICM_mx (@AICM_mx) August 31, 2017
The suspension of services at the airport was also reported by other local media, including the online magazine Chilango here and Newsweek Mexico here.
The Rajiv Gandhi International Airport also addressed the misleading claim in this tweet dated October 15, 2020, calling it "fake".
October 15, 2020
Titled "Fake video alert", the tweet reads: "It has been noticed many fake videos of water logging at RGIA are in circulation. Please be informed that operations at your airport are normal. Your airport is  #SafeToFly and you can reach out to our information desk at any given time or text us on our social media platforms for assistance."