The cartoon showing Sri Lanka begging for cash was published in a local newspaper, not in Bangladesh
After Bangladesh approved a $250 million currency swap to bail out Sri Lanka, a political cartoon showing an ancient Sri Lankan king extending a begging bowl to Bangladesh surfaced in Facebook posts claiming it was published in a Bangladeshi newspaper mocking the island nation. The claim is false: the cartoon is a work of Sri Lankan cartoonist and was published in local newspaper Daily FT.
This cartoon was featured in this Facebook post published on May 30, 2021. 
The Sinhala-language text superimposed on the image reads: 
"A cartoon that appeared in a Bangladeshi newspaper.  Are you happy now?  Look at how we were ridiculed even in front of Bangladeshis."
Screenshot of the Facebook post captured on May 31, 2021
The post appeared days after Bangladesh joined China and South Korea by approving a currency swap to bail out Sri Lanka, which is facing its worst foreign exchange crisis.
The central bank of Bangladesh approved a $250 million deal -- its first currency swap -- as Sri Lanka battles a dollar shortage and debt crisis.
Similar claims featuring the cartoon circulated on Facebook here and here.
However, the claim is false. The cartoon is a creation of senior Sri Lankan cartoonist Wasantha Sriwardena and appeared in local business newspaper Daily FT on May 28, 2021. 
A keyword search on Google led to this Daily FT report published on May 28, 2021.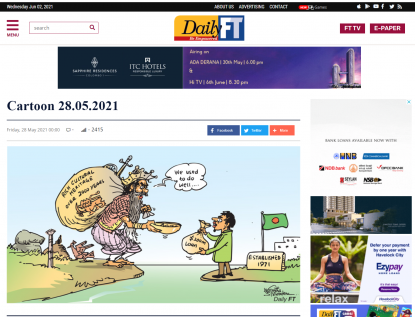 The cartoon appeared in the May 28, 2021 edition of Sri Lankan newspaper Daily FT
A closer look at the bottom-right corner of the cartoon reveals the signature of Sri Lankan cartoonist Wasantha Siriwardena. 
Siriwardena confirmed he penned the cartoon for the Sri Lankan newspaper.
"It is false, there is no truth to that claim. It is a cartoon I did for Daily FT and has already been published," he told AFP.