Anti-malaria drug has proven effective in treating coronavirus but has not cured 12,552 patients
A report in Nigeria claims that anti-malaria drug chloroquine has cured 12,552 novel coronavirus patients. This is misleading; the China National Center for Biotechnology Development confirmed the drug has "a certain curative effect on the novel coronavirus", but did not say it cured 12,552 patients. The drug has only been used in clinical trials with "over 100 patients".
The news article, which has been shared hundreds of times on Facebook, alleges that chloroquine has been "found effective against coronavirus" and has cured "12,552 patients in China" alone. The article adds that "China's National Health Commission, on Tuesday (February 18), says no fewer than 12,552 have recovered in Chinese mainland out of 72,528 confirmed cases of Coronavirus (COVID-19) in that country."
We've archived some of the shares here and here.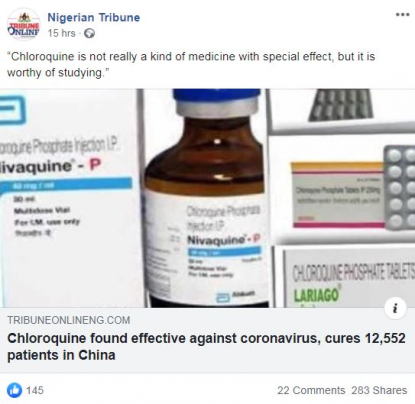 A screenshot taken on February 21, 2020, showing a misleading Facebook post claiming chloroquine has cured over 12,000 COVID-19 patients
As the leading country in the world for malaria cases, Nigeria accounted for 25 percent of global malaria cases in 2018. For this reason, the anti-malaria drug chloroquine phosphate -- although banned in 2005 and again in 2017 -- is a very popular drug in the country. 
On Monday, when the Chinese authorities listed chloroquine as one of the drugs with "a certain curative effect" on COVID-19, the drug began to trend on Twitter in Nigeria.
Lol. It has been revealed that Chloroquine cures Corona virus and now It all makes sense why no African died of the disease.

Nigerian hospitals used to give us that drug like candy, growing up. If you search our systems, I'm sure you'd still find remnants of the drug inside. ?

— Harri Obi™ (@Harri_Obi) February 20, 2020
After the outbreak began at the end of last year, Chinese scientists began to evaluate "the antiviral efficiency" of existing drugs on COVID-19. They tested several drugs, including chloroquine. 
The scientists said in a paper published on February 4, 2020, that the drugs were tested against "a clinical isolate of 2019-nCoV in vitro" (outside the human body).
"Our findings reveal that remdesivir and chloroquine are highly effective in the control of 2019-nCoV infection in vitro," the scientists wrote. "We suggest that they should be assessed in human patients suffering from the novel coronavirus disease", they added.
The drug was eventually put to clinical trials, according to the Chinese state news agency, Xinhua.
Thousands of patients cured?
Xinhua reported on Monday that "Chinese experts, based on the result of clinical trials, have confirmed that Chloroquine Phosphate, an antimalarial drug, has a certain curative effect on the novel coronavirus disease (COVID-19)".
Xinhua added that Sun Yanrong, deputy head of the China National Center for Biotechnology Development under the Ministry of Science and Technology (MOST), said the experts "suggested the drug be included in the next version of the treatment guidelines".
Yanrong said "over 100 patients enrolled in the clinical trials" have shown no serious adverse reactions to the drug.
The drug and two others -- Favilavir and Gilead's experimental drug remdesivir -- are now being tested in clinical trials. 
The outbreak of COVID-19 , which began in December 2019, has killed more than 2,200 people and infected more than 75,500 in China as of February 21, 2020.