This is an AFP photo of Aung San Suu Kyi attending a funeral in 2017
A photo purporting to show Myanmar's civilian leader Aung San Suu Kyi being detained during the military coup on February 1, 2021 has been shared tens of thousands of times on Facebook. The claim is false; the image is an AFP photo of Suu Kyi attending the funeral of the former chairman of her political party in 2017.
The photo was published on February 1, 2021 in a Facebook post shared more than 15,000 times.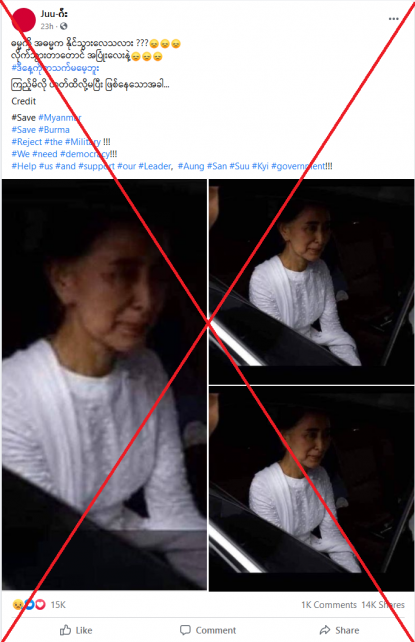 The screenshot of the misleading post, taken on February 2, 2021
"Has Dhamma been conquered by force?" the Burmese-language caption reads. Dhamma refers to the teachings of the Buddha.
"She was smiling even as she was detained. I will never forget this day. It hurts my heart to see this".
The post circulated after Myanmar's military seized power in a coup against Suu Kyi's civilian government on February 1, 2021. The army declared a year-long state of emergency and detained Suu Kyi along with top officials in her political party, the National League for Democracy (NLD). 
The photo was widely shared on Facebook alongside a similar claim, including here, here and here.
However, the claim is false.
A reverse image search on Google found the photo was published by AFP here on August 17, 2017, over three years before the coup. 
The photo of AFP's photo gallery, taken on February 2, 2021
The photo's caption reads: "Myanmar's State Counselor Aung San Suu Kyi leaves after attending the funeral service for the National League for Democracy (NLD) party's former chairman Aung Shwe in Yangon on August 17, 2017."
Below is a screenshot comparison of the photo in the misleading post (L) and the AFP photo (R):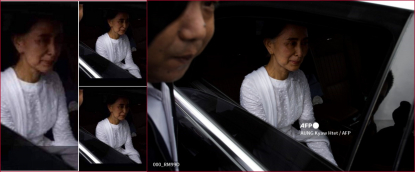 The Global New Light of Myanmar, a government-run news outlet, also reported on the funeral of former NLD chairman Aung Shwe, who co-founded and led the party from 1991 to 2010. 
"At the funeral ceremony, State Counsellor Daw Aung San Suu Kyi delivered a eulogy in honour of the ex-chairman," the report reads.