AFP image shared in false posts about 'Indian couple refusing ambulance decorated with Hindu god sticker'
Facebook and Twitter posts have shared an image alongside a claim that an Indian couple refused medical treatment from an ambulance decorated with a Hindu god sticker. The claim is false: the posts shared a photo taken by an AFP photographer, who said the story was fabricated. The Indian news organisation that the posts claimed published the story said it had not published any such report.
The photo was shared widely on social media, for example here on Facebook on May 14, 2021, as India struggled with a severe shortage of medical oxygen amid a deadly second wave of Covid-19 infections, AFP has reported.
The post shares what appears to be a screenshot of a report by Inshorts, an Indian news app, with an image of a medic in protective equipment standing next to an ambulance. 
The headline across the bottom of the image reads:  "Kerala couple refuse ambulance with Hanuman sticker, dies."
The purported article reads: "In a bizarre incident, M Stalin and his wife Jaycee who were gasping for oxygen refused an ambulance when they saw a saffron Hanuman sticker on the vehicle. According to eyewitness, they passed away shaking within minutes of each."
The post's Hindi-language caption translates to English as: "Brotherhood? If these kinds of people die then it's fine. Who said that all religions are equal, who said they are secular, those who say are double-faced."
In Hindu mythology, Hanuman is a monkey god. 
Below is a screenshot with the Hanuman decoration highlighted on the ambulance: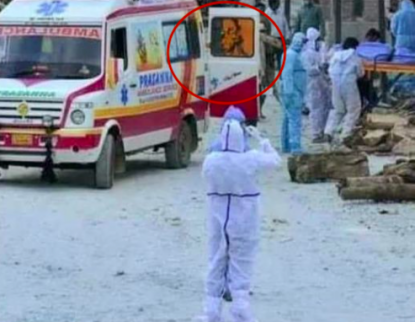 The graphic is known as 'Angry Hanuman' and was designed by an Indian artist in 2015.
The purported screenshot was also shared alongside a similar claim here and here on Facebook, and here on Instagram.
A local politician with India's ruling Bharatiya Janata Party member also shared a similar post here in a Facebook post.
But the claim is false. 
Bangalore image
The photo in the purported screenshot was actually taken by AFP in Bangalore -- in the state of Karnataka, not Kerala -- on May 8, 2021.
It can be seen here on AFP's Image Forum:
The photo's caption reads: "Family members and undertakers carry the body of a victim who died of the Covid-19 coronavirus at an open-air crematorium set up for the coronavirus victims inside a defunct granite quarry on the outskirts of Bangalore on May 8, 2021, as India recorded more than 4,000 coronavirus deaths in a day for the first time. Manjunath Kiran / AFP."
AFP photographer Manjunath Kiran said the claim in the posts about a couple refusing medical treatment was false.
"A Covid-19 dead body was brought in that ambulance and a few family members were standing at a distance watching the funeral," he said, describing what the photograph actually depicted.
Fabricated report
Inshorts said it had not published any such news article on its platform.
"This is fake, we have not published any such article as in this screenshot," a spokesperson told India's BoomLive fact-checking organisation. 
Google keyword searches did not find any credible reports about a couple in Kerala refusing medical treatment from a Hanuman-decorated ambulance.