This video was taken from a 1980s biopic film on the life of an Indian independence activist
A video has been viewed tens of thousands of times in multiple Facebook and Twitter posts alongside a claim it is rare footage of Vinayak Damodar Savarkar — a Hindu nationalist and independence activist — who was imprisoned during British rule. The posts claim the footage was captured by a British journalist for the BBC. The claim is false; the video is in fact a clip from a biopic film on Savarkar's life that was made in 1983, 17 years after his death.
The one-minute 39-second video was published on Facebook here on November 27, 2020.
Screenshot of the misleading Facebook post
The post's Hindi-language caption translates to English as: "A British journalist shot this video of Savarkar inside the Andaman prison. The BBC aired this rare footage on its channel. You too watch this rare footage that shows Savarkar is imprisoned in a small room."
Savarkar was a Hindu nationalist who was imprisoned for his alleged complicity in the assassination of a British official in India. He served his sentence at the Andaman Islands prison from 1911 to 1924.
The video was also shared alongside a similar claim on Facebook here, here, here and here and on Twitter here, here, here and here.
The claim is false.
The logo visible in the bottom-right corner of the video matches the logo of the Indian government's Film Division, a department of the Ministry of Information and Broadcasting.
Below is a screenshot of the video with the logo circled in red by AFP:
Screenshot of Facebook video showing logo
A keyword search found the video is a scene from the documentary film "Life of Shri Vinayak Damodar Savarkar".
The 41-minute film was published on the Ministry of Information and Broadcasting's YouTube channel here on August 14, 2014. The exact scene shared in the false posts can be seen at beginning of the YouTube video's 25-minute mark.
Below is a screenshot comparison of the video shared in the misleading Facebook post (L) and the Film Division's YouTube video (R):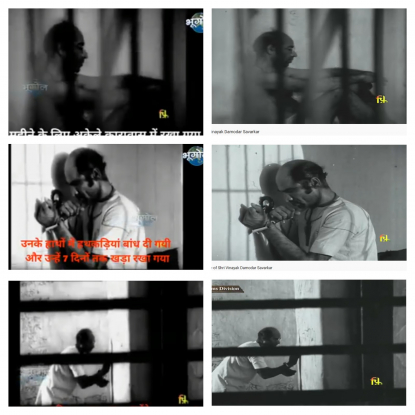 Image comparing screenshots
"Shri Vinayak Damodar Savarkar was a fearless freedom fighter, social reformer, writer, dramatist, poet, historian, political leader and philosopher. Savarkar's thoughts touch upon virtually every aspect of nation-building and are relevant even today. The film depicts various important events in his life," the video's description reads.
The film was made in 1983 — 17 years after Savarkar's death — and was directed by Prem Viadya, according to the Film Division website.
Screenshot of movie's detail from film division website