This video was created using a flight simulator programme
A video has been viewed  millions of times in multiple posts on Facebook which claim it is "real" clip of the Pakistan International Airlines plane crash that claimed scores of lives in the city of Karachi on May 22, 2020. The claim is false; the video was created using a flight simulator programme. 
The video has been viewed more than 12 million times after it was broadcast here on Facebook on May 22. 
The seven hour-long video repeats a clip that features an animated image of a Pakistan International Airlines (PIA) aircraft crashing following an engine fire. 
The video's caption states: "PIA AirPlane Crashed Today in Karachi Real Video".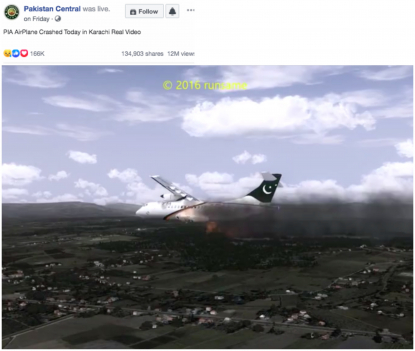 A screenshot taken on May 25, 2020, of the misleading video by Facebook user Pakistan Central
The video was published the same day as a PIA plane crashed in the southern Pakistani city of Karachi, killing almost 100 people on board, AFP reported here.
The footage was also shared repeatedly in videos published on Facebook here and here alongside an identical claim.
The claim is false; the video was produced using a flight simulator programme.
AFP conducted an analysis of keyframes extracted from the clip using the video verification tool InVID-WeVerify and found the video consists of computer-generated imagery.
Flight simulator 
A reverse image search on Google found a corresponding video published here on YouTube in December 2016. The title states: "Extreme Crash PIA ATR 42 Flight 661 Islamabad". 
In the video description, the YouTube channel states the footage is a simulation created using Flight Simulator X, a flight simulation programme published by Microsoft, and not a real life incident.
It states: "All crashes are no real plane crashes, real one are terrible. This here is just for entertainment." 
The YouTube video features an ATR-42 aircraft, not the Airbus 320 that crashed in Karachi on May 22. While PIA owns both models of planes, the ATR-42 is considerably smaller.
Another flight simulation video from the same YouTube channel has also been wrongly described as showing the May 22 PIA plane crash in Karachi, as The Times of India reported here.
Computer-generated imagery
This screenshot from the video shows parts of the PIA plane appearing to sink into the ground upon contact, leaving no damage to the lawn. This would not be possible in a real-life event.
No visible damage to plane 
One of the last frames of the video shows a large plume of smoke rising from the supposedly crashed aircraft, which appears intact. 

This does not correspond with an account from a Karachi firefighter, who told AFP that the nose and fuselage of the plane had been heavily damaged by the impact, or with images from the crash site.
Below is an AFP photo of the wreckage of the PIA plane taken two days after the crash in Karachi on May 24: