This video shows a rubbish bin, not a person, being thrown from height
A video has been viewed more than 100,000 times in multiple Facebook posts which claim it shows a Hong Kong pro-democracy demonstrator being thrown from height. The claim is false; a closer analysis of the footage found it shows a rubbish bin being thrown off a pedestrian footbridge in Hong Kong's Kwai Chung district; police dismissed suggestions that a man who died after falling from a building the same evening in the same neighbourhood had been the victim of foul play. 
The video was published here in a Facebook post on November 14, 2019.
It has been viewed more than 120,000 times and has received more than 3,200 shares.
The seven second video shows about a dozen people standing on a Hong Kong street.
At the four second mark, a loud crashing noise rings out after an object is seen falling from a pedestrian footbridge to the ground. A person wearing a white t-shirt can be seen standing on the footbridge above where the object fell.  
The video's traditional Chinese-language caption translates to English as: "A black-clad person was directly thrown from a high-rise building onto the street after being attacked on Kwai Fuk Road in Kwai Chung". 
Below is a screenshot of the misleading Facebook post: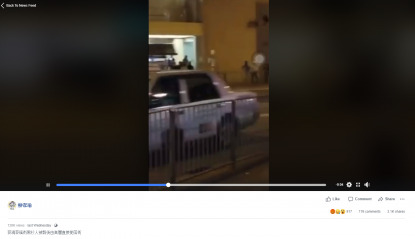 Screenshot of the misleading Facebook post
Pro-democracy demonstrations in Hong Kong have become increasingly violent as the protests enter their sixth month, as reported here by AFP.
The same video was also published on Facebook here and here with a similar claim.
The claim is false; the video shows a rubbish bin, not a person, being hurled onto the street from a footbridge. 
A keyword search on Google found a longer and clearer version of the same footage published here on Facebook on November 13. 
Translated from traditional Chinese to English, the video's caption states: "Correction: Suspected triad members/undercover police officers attack citizens, later someone stops them by throwing a rubbish bin

---
On another note:
22:39 Kwai Fuk Road near Kerry Cargo Centre

A black-clad young person was slashed, and suspected to have been thrown off a building, with a big knife mark on the chest, unconscious.

//Earliest witness account at 2233
Found on Kwai Fuk Road outside Kerry Logistics
No heartbeat, CPR and AED performed
Compound fracture in hand
Already on ambulance
Ambulance number plate A137

First aid said there was no eyewitness
But he/she (first aider) has a first aid licence 
Judging from the extent of bone fractures, likely fell from height, and even more likely to have been slashed

(Angry emoji)
Blood for blood (swearwords)//

#Telegramgroup

- - -

Video of the injured person: https://www.facebook.com/on9ccnews/videos/566128170866441/".
A Cantonese-speaking journalist at AFP's Hong Kong bureau analysed the video. In the clip, a small group of people can be seen gathered under the bridge, some of whom are holding torches.
In the street, other people can be heard shouting in Cantonese at the group. Some of their comments can be translated to English as: "Triads!"; "Can anyone help?" and "Let go of that person!"
Another person can be heard narrating parts of the scene in Cantonese. Their comments translate to English as: "People are beaten at Kwai Fuk Court"; "Help save that person"; "A person was caught"; "Coming out of Kwai Fuk Court, these people are probably residents of Kwai Fuk Court who came onto the street all geared up." 
A person wearing a white t-shirt can then be seen throwing a bin from the footbridge at the group standing underneath. 
The clip in the misleading post corresponds with the one minute and 11 second mark to the one minute and 18 second mark of the longer Facebook video. 
Below are three screenshots from the longer video with the rubbish bin circled in red by AFP: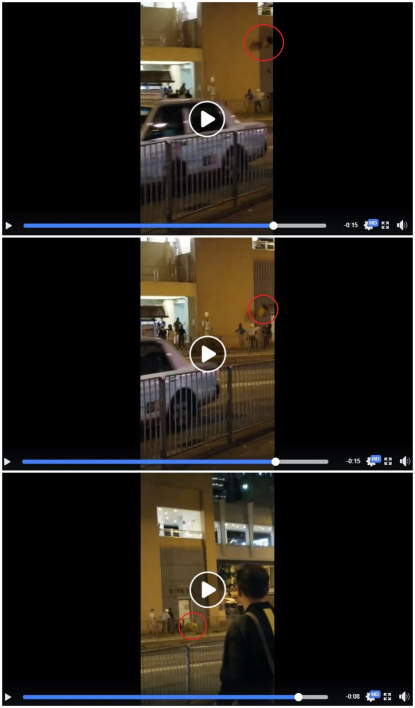 Screenshots from the longer Facebook video with the rubbish bin circled in red by AFP
The bin corresponds with images of rubbish bins in Hong Kong, such as one published in this article by Hong Kong news site hk01 on August 7, 2016. 
Below is a screenshot of the hk01 photo: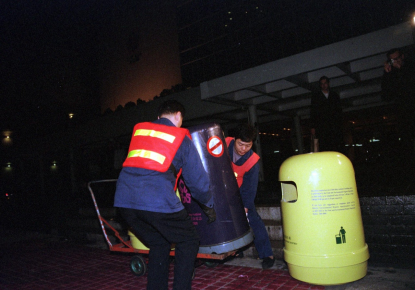 Screenshot of the hk01 photo
The incident happened next to a footbridge on Tai Wo Hau Road near Kwai Chung Shopping Centre in the district of Kwai Chung, as seen here on Google Street View.
On the same evening (November 13) in Kwai Chung, a man was found unconscious on Kwai Fuk Road and later died in hospital, Hong Kong newspaper South China Morning Post reported here on November 15.
However, Kwai Fuk Road, where Kerry Cargo Centre as mentioned in the caption of the longer Facebook video is located, is nearly two kilometres southwest of the filming location near the Kwai Fuk Court housing estate on Tai Wo Hau Road, according to Google Maps. 
Below is the relevant Google Maps imagery with the filming location (pinned) and Kwai Fuk Court on Tai Wo Hau Road, as well as Kerry Cargo Centre on Kwai Fuk Road circled in red by AFP: 
In this statement published on November 14, Hong Kong Police dismissed "online rumours" that the man's death was "suspicious" or related to police activity.  
The statement reads: "Online rumours state that the case involving a male deceased that occurred last night (2019-11-13) in Tsuen Wan is suspicious. They state that there appear wounds caused by knives on the dead body and even accuse police of killing the deceased. The Police clarify that these allegations are totally false and malicious.
"The relevant CCTV has been disclosed by the management office of the building concerned. In the footage, it is seen that the deceased wandered alone and had no contact with any others at the material time. Initial medical examination reveals that there are fractures but no wound caused by sharp objects. The injury sustained is beyond suspicion of any kind.
"The rumours go beyond the fact, making the family of the deceased feel being 'assaulted a second time'. The police appeal to the rumormongers to stop their irresponsible acts."
Below is a screenshot of the statement:
Screenshot of the statement