This video shows police officers in Pakistan clashing with a Muslim cleric's supporters in 2014
A video of uniformed policemen violently detaining people has been viewed hundreds of thousands of times in multiple posts on Facebook and Twitter alongside a claim it shows abuses by security forces in Indian Kashmir. The claim is false; the video has taken from a short film about clashes in Pakistan between police and supporters of a renowned Muslim cleric in June 2014.
The 30-second video was published here in a Facebook post on September 2, 2019. It has been viewed more than 370,000 times.
The post's Hindi-language caption translates to English as: "Even the army hurls stones but it is Kashmiris who are criticised for it. #SaveKashmir."
Below is a screenshot of the misleading Facebook post:
Screenshot of misleading Facebook post
The video has also been shared elsewhere on Facebook here, here and here alongside a similar claim.
The claim is false; the video shows policemen beating and detaining supporters of a renowned Muslim cleric in the Pakistani city of Lahore after they clashed with security personnel on June 17, 2014.
The screenshot below -- taken from the footage at the 23 second mark -- shows the phrase "Zulfiqar Butt from Manga Mundi being arrested" written on a black banner at the bottom of the screen.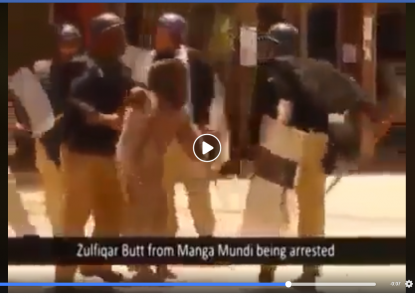 A screenshot of the misleading Facebook post
A search on Google Maps subsequently found Manga Mandi refers to a town southwest of Lahore.
A further online keyword search found the video was taken from a documentary published here alongside a text report headlined 'Model Town Massacre - 17 June'.
The footage in the misleading post corresponds with the short film between the nine minutes six seconds mark and nine minutes 36 seconds mark.
Below are screenshots comparisons of the video in the misleading Facebook post (L) and the documentary (R):
Image comparing screenshots
Part of the article accompanying the short film states:
"With the rising of the Sun of June 17, the news of state terrorism on the central secretariat of MQI spread like wild fire in every nook and corner of the country. Hearing this, the workers, members of civil society and the people at large started reaching the central secretariat. The police deployment was also increasing with the passage of time as reinforcements came from across the city of Lahore. Defending themselves against the brutal police action, the workers warded off the police officials from removing security barriers for many hours and they suffered severe baton-charging and pelting of stones by the police in the process."
AFP on the incident in this article published on June 17.
It states: "Eight people were killed (Tuesday) when Pakistani riot police armed with assault rifles clashed with followers of a prominent preacher and anti-government critic in the eastern city of Lahore.
"The clash, a rare act of political violence in Prime Minister Nawaz Sharif's home city, involved supporters of cleric Tahir-ul-Qadri who lives in Canada but is due to come to pakistan on June 23."