This video shows the Philippine National Police conducting a training exercise
A video has been viewed thousands of times in multiple Facebook posts alongside a claim it shows police shooting a man dead at a COVID-19 checkpoint in the Philippines. The claim is false; the Philippine National Police said that the video shows a "training drill"; a closer analysis of the footage shows the man moving several times shortly after the sound of a gunshot rings out.
The seven-minute 19-second video has been viewed more than 4,000 times after it was published on Facebook here on April 24, 2020.
Below is a screenshot of the misleading post: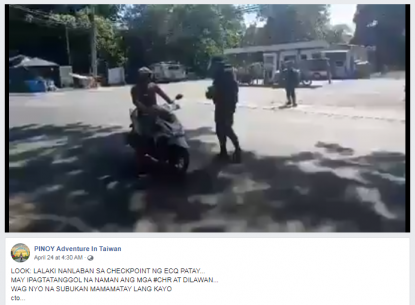 Screenshot of Facebook post
The post's Tagalog-language caption reads: "LOOK: MAN WHO FOUGHT BACK AT ECQ CHECKPOINT DEAD… / THE #CHR AND YELLOWS HAVE ANOTHER CASE TO FIGHT FOR / DO NOT TRY YOU WILL JUST DIE / cto..."
"ECQ" is an acronym for "enhanced community quarantine", which are lockdown measures that have been imposed by Philippine authorities since March 17, 2020 in a bid to curb the spread of COVID-19.
"CHR" refers to the Philippine Commission on Human Rights and "Yellows" is a pejorative term for the opposition Liberal Party in the Philippines. 
The reference to "another case to fight for" alludes to the fatal shooting of a former soldier by police at a quarantine checkpoint on April 21. The police officer was later charged with homicide, CNN Philippines reported.
The same video, and other footage of the same incident, was also shared alongside a similar claim on Facebook here, here, here, here, here and here.
The claim is false.
Philippine National Police spokesperson Bernard Banac told AFP in a text message on April 27, 2020 the video shows "a training drill."
A closer analysis of the footage reveals the incident is a training exercise.
Between the one-minute 19-second mark and one-minute 21-second mark, the footage shows two other people filming the drill.
Later, at the three-minute 18-second mark and the six-minute and 16-second mark of the clip, the man on the floor can be seen lifting his head after the sound of a gunshot rings out.
Below are screenshots from these sections of the video which show the other cameramen filming, then later the man on the floor circled in red: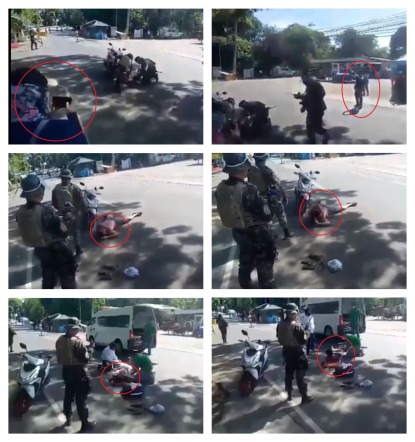 Screenshots from the video
Lockdown restrictions in the Philippine capital Manila and its surrounding areas were extended to May 15 as the country continued to battle a growing number of COVID-19 infections and deaths, AFP reported here.
The training exercise was conducted here in the town of Sipocot in the region of Bicol.