This video shows monkeys sliding down electricity cables in India
A video has been viewed hundreds of thousands of times on Facebook and Twitter alongside a claim that it shows monkeys sliding on electricity cables outside a hospital in Thailand's Lopburi province. The claim is false: the video shows monkeys near an apartment building in the Indian city of Ahmedabad. 
The video was published here on Facebook on March 15, 2021. It has been viewed more than 800,000 times.
The post's Thai-language caption reads: "Building of the King Narai Hospital in Lopburi, a new adventurous place! (Thank you, the clip owner)."
Lopburi is a province in central Thailand where monkeys are frequently seen.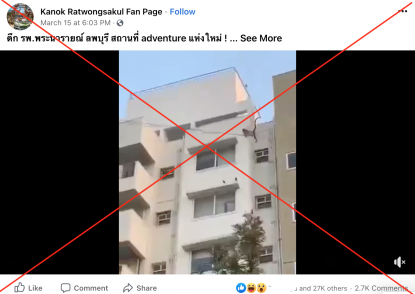 A screenshot of the misleading post
The video was also shared alongside similar claims here, here, here, and here on Facebook and here on Twitter.
The claim, however, is false. 
A reverse image search with video keyframes followed by a keyword search on Google found that the video was published here by Russian state media outlet Sputnik on March 9, 2021.
The article, headlined "Daredevil Monkey Uses Electric Wire to Descend From High-Rise Roof", claims the footage was taken in India.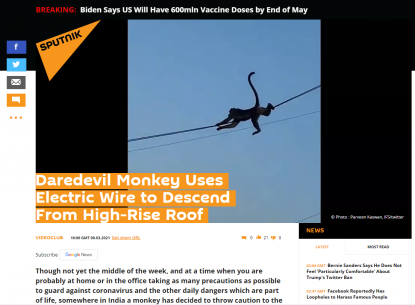 Screenshot of the article by Sputnik
A subsequent keyword search found the same video clip featured in a tweet sent by India-based nature photographer Zubin Ashara on March 9, 2021.
"Khatron Ke Khiladi [Dangerous players]", his Hindi-language tweet reads, referring to a popular Indian TV show where participants undertake risky stunts.
खतरों के खिलाड़ी pic.twitter.com/ikhiAiQkrp

— Zubin Ashara (@zubinashara) March 9, 2021
Below is the screenshot of the misleading video (L) and video tweeted by Ashara (R) :
Screenshot of the misleading video (L) and video tweeted by Ashara (R)
Contacted by AFP, Ashara said he filmed the clip in the city of Ahmedabad in India and that the apartment building shown in the footage is Parthsarthi Avenue.
"It's unusual so I filmed [it]", Ashara told AFP News Agency via Twitter direct message on March 22, 2021.
Ashara is based in Ahmedabad according to his Twitter profile and has previously taken a video from the city of a monkey mother who saved her baby on cable wires, as reported here on May 16, 2020 by Latestly, an India-based news website.
A search of Parthsarthi Avenue on Google Earth also shows satellite image of a building in yellow and white which tallies with the apartment building seen in the Twitter video.
AFP conducted a search online and found no earlier versions of the video than the one sent by Ashara on March 9, 2021, at 3:09 PM.