This video shows people in a coronavirus quarantine centre in Malaysia, not Thailand
A video has been viewed tens of thousands of times in multiple posts on Facebook that claims it shows Covid-19 patients in a Thai field hospital after a coronavirus outbreak in the Thai province of Samut Sakhon in December 2020. The claim is false; the video shows a Covid-19 quarantine centre for migrants in the Malaysian state of Pahang.
The 33-second video was published in this Facebook post on January 4, 2021.
The video shows people lying on mats on the floor of a stadium.
Screenshot of the Facebook post taken on Jan 5, 2021
The post's Thai-language caption translates in part as:  "This video was taken at Sanam Mahachai Samut Sakhon Hospital… These Myanmar people are sleeping with barbed-wires used to isolate them.
"If you don't want to sleep like this, please take care of yourself 1. Mask 2. Gel 3. Alcohol
"You can't be negligent."
In late December 2020, more than 1,000 new Covid-19 infections in Thailand were linked to a seafood market in Samut Sakhon province near Bangkok. Most of the infected cases were migrant workers from neighbouring Myanmar, AFP reported here.
A provincial stadium was designated as an additional field hospital to treat Covid-19 patients with mild symptoms, the Bangkok Post reported here. 
The video was also shared with a similar claim here, here and here on Facebook.
The claim is false: the video shows a quarantine centre in Malaysia.
In response to the misleading posts, Pinyo Longpadung, a public relations officer at the Samut Sakhon Provincial Public Relation Office, said the video in the misleading posts was not filmed in Thailand.
"We are not using an indoor stadium as a Covid-19 quarantine centre," he said.
A keyword search subsequently found this four-minute video published on Facebook by PahangKu Media, a Pahang-based media on December 10, 2020. The clip shows the interior of a stadium which corresponds with the video in the misleading posts.
The video's Malay-language title translates to English as: "Explanation on the issue of placement of Covid-19 patients at SUKPA Stadium
"Explanation of Covid-19 patient placement issues for foreigners in Pahang."
The Pahang Sports Complex Indoor Stadium (Sukpa) is in Pahang, a federal state in west Malaysia.
Below are screenshot comparisons of the video in the misleading post (L) and the video by Pahangku media (R) with corresponding elements circled in red by AFP: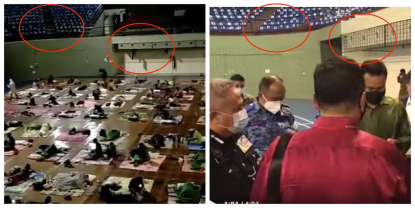 A subsequent keyword search found this statement published by the Pahang State Government on December 20, 2020.
The post's caption translates to English in part as: "Covid-19 Quarantine and Treatment Centre (PKRC) closed Stadium of Pahang Sports Complex (Sukpa) here, terminates operation after all 168 foreigners stationed at the relevant centers, recovered and allowed home today."
Thailand's Anti-Fake News Centre, a government-run platform within the Ministry of Digital Economy and Society, also published this report on January 5, 2021, saying the claim in the misleading posts was "fake information".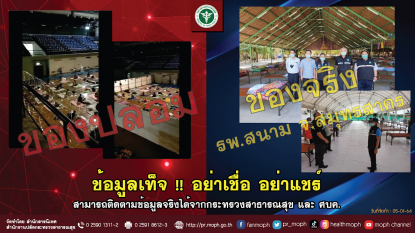 Screenshot of the Anti-Fake News Centre's article, taken on January 6, 2021