The video is a parody sketch aired on French TV
Footage has been viewed thousands of times on Facebook alongside a claim that it shows a family killed by a teenage boy who was addicted to video games. The claim is false; the footage is actually a parody sketch which aired on French TV channel Canal+ in 2020.
The two-minute, 20-second clip was posted on September 1, 2020, here on Facebook, where it has been viewed more than 1,900 times.
Translated to English, the Indonesian-language post partly says: "Happening in France:
"The boy was addicted to electronic games. The domestic worker accidentally cut off the Wi-Fi. The boy went berserk and killed everyone in the house
"Older brother, sister, mother, father, and the domestic worker.
"When the police arrived at the crime scene, they found him playing and his family dead around him. He told the police to wait and let him continue playing."
Screenshot of misleading post, taken on September 4, 2020
The footage has been viewed more than 5,000 times after it was shared on Facebook here, here, here and here. 
The same footage has been shared with a similar claim in English here, here and here, as well as, in Malaysian here and here. 
The claim is false. 
A reverse image search followed by keyword search on Google found the original video was uploaded on the official YouTube channel of Groland Le Zapoi here on June 10, 2020. 
Translated from French to English, the video's titled: "A justified murder - Groland - CANAL+". 
And the caption reads in part: "Live from the Presipality, find all Groland's sketches and parodies every Saturday on Canal+, ZAPOI!" 
The Presipality of Groland, or Groland, is a fictional country featured in Groland Le Zapoi, a comedy programme on French TV channel Canal+. 
Below is a screenshot comparison between footage in the misleading post (L) and the original video (R):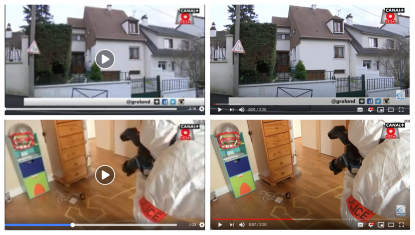 Screenshot comparison between footage in the misleading post (L) and the original video (R)