This video of Pakistan's Imran Khan has nothing to do with India's recent policy in Kashmir
A video of Pakistan Prime Minister Imran Khan has been viewed tens of thousands of times in multiple Facebook posts alongside a claim that it shows him angrily abusing journalists in response to India revoking Jammu and Kashmir's special status in August 2019. The claim is false; the video actually shows an irritated Khan urging his supporters to be quiet during a press conference in 2015.
The one-minute two-second clip was published here in a Facebook post on August 19, 2019. It has been viewed more than 40,000 times.
The Hindi language text above the footage translates to English as: "Pakistan PM Imran Khan went crazy over Article 370, started abusing journalists."
The post's Hindi language caption translates to English as: "This is the first video of Imran Khan after removal of Article 370."
Below is a screenshot of the Facebook post: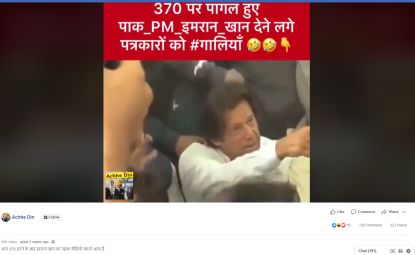 Screenshot of misleading Facebook post
India and Pakistan have long disputed the Himalayan region of Kashmir. Both countries control part of the territory.
India revoked Article 370, which gave its portion of Jammu and Kashmir a special status, on August 5, 2019. This AFP report explains the background to the decision.
A shorter version of the video in the misleading post was also shared on Facebook here, here, here and here with a similar claim.
The claim is false; the video has been taken from a press conference held on June 8, 2015, in Islamabad, during which a visibly irritated Khan urged supporters to be quiet.
A Google keyword search found an excerpt of the misleading Facebook post published here on YouTube on December 19, 2015 bearing the logo of Pakistani news channel Samaa TV.
Below are three screenshot comparisons of the YouTube video (L) and the video in the misleading posts (R):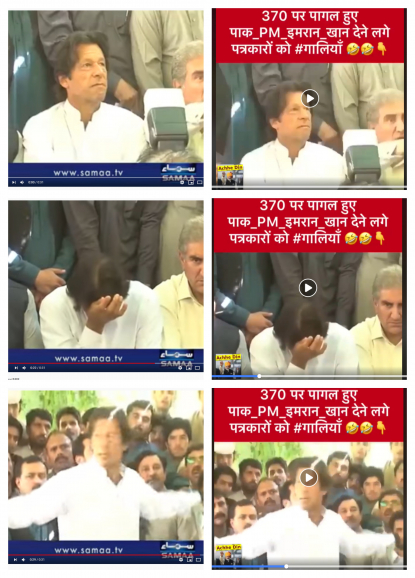 Image comparing screenshots
This report published on June 8, 2015 on the Samaa TV website shows a screenshot of the same video. The headline states: "Video: 'Angry' Imran asks supporters to shut up."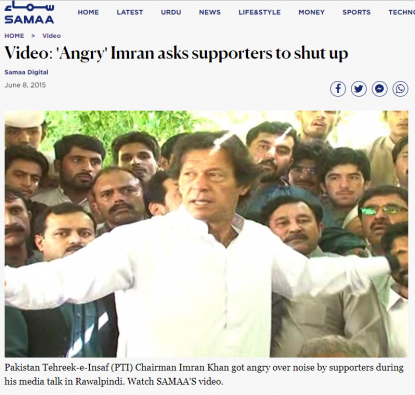 Screenshot of media report (Screenshot of media report)
A longer clip of the press conference was also published here on Imran Khan's official Facebook page on the same day. The video is embedded below.