Video misleadingly edited to make Trump appear disoriented
A video viewed millions of times has been shared alongside claims that President Donald Trump was "meandering" and "disoriented" on the White House South Lawn. But the clip has been misleadingly edited; a longer version shows Trump waiting for his wife Melania before pointing out a puddle to her, after which they walk together toward the presidential helicopter.
"BREAKING A well known orange lunatic was seen meandering in the White House lawn," says a September 6, 2020 tweet on the @BionicMD account, the description of which includes the hashtags #Biden2020 and #SarcasticNews.
Screenshot of a misleadingly edited video clip, taken Sept 8, 2020
A tweet with the same clip later that day was shared more than 19,000 times accompanied by an even more elaborate claim.
"Trump is lost & disoriented here. His mind goes blank and he doesn't remember what he's supposed to do next. He's deep into his degenerative neurological disease- Frontotemporal dementia- mindlessly lumbering and zigzagging in the grass towards a puddle," it says.
The commentator, @TomJChicago, says he is not a physician but has been a "researcher in the dementia field for most of my life." 
His tweet is no longer available. Twitter labeled the video "manipulated," saying journalists determined that it was "edited out of context."
In the 12-second clip, Trump waves to reporters, takes a couple of steps toward the Marine One helicopter, then turns to his left on the grass and walks a few yards before stepping to the left again and stopping in front of a puddle on the road.
The clip was also shared on Twitter, including on this pro-Joe Biden account as well as here and here, on Instagram here and also on Facebook here.
But it is only a fragment of a video shot on August 7, 2019, when Trump spoke to reporters before traveling to Dayton, Ohio and El Paso, Texas following mass shootings.

An analysis of the clip using the InVID image tool showed that it featured scenes virtually identical to those in C-SPAN2 footage, which appears to be shot from a slightly different angle.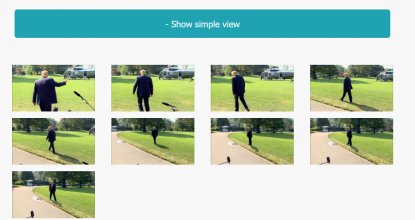 Screenshot taken September 8, 2020 of an InVID frame-by-frame breakdown of the misleading clip
Screenshots taken on September 9, 2020 from segments of a C-SPAN2 video closely match footage shared on social media
The clip on social media ends before Melania Trump walks across the road toward the puddle and her waiting husband, as shown in the C-SPAN2 footage.
Screenshot taken September 9, 2020 from C-SPAN2 footage of Melania Trump walking to meet her husband
ABC News reporter Will Steakin on September 7 showed images from the C-SPAN2 video and reported that the social media clip had been deceptively edited.
Fact-checkers including from Reuters and Lead Stories also debunked the clip.
Concerns about manipulated images are on the rise less than two months before the November 3 presidential election. Trump trails Democratic challenger Joe Biden by about seven percent in an average of national polls. Crucial swing states are much closer.
With Biden aged 77 and Trump only three years younger, their mental capabilities have become an issue in the campaign.
Trump has said that he "aced" a cognitive test, which was not a measure of IQ but included a five-word memory challenge.
AFP Fact Check previously debunked a video which falsely claimed to show Biden sleeping during a live TV interview.
This fact check is available at IFCN's 2020 US Elections FactChat #Chatbot on WhatsApp. Click here, for more.