This video is from an India-Pakistan cricket game in Dubai in September 2018
A video has been viewed thousands of times after an Indian politician posted it on Facebook claiming it shows a crowd singing after the Indian national cricket team's historic test match win against Australia on January 19, 2021. The claim is false; the footage actually shows an India-Pakistan game at the Dubai International Stadium in September 2018.
The short clip was posted to Facebook here on January 19, 2021 by Sushil Singh, a politician from India's ruling Bharatiya Janata Party. It has been viewed more than 150,000 times.
The post's Hindi caption reads: "Thanks and hearty congratulations to Indian cricketers from 1.3 billion Indians on the historic win against Australia. Love and a magical hug from us to all the Indians living in Australia and singing Vande Mataram. Long live India."
The clip shows a packed cricket stadium with fans waving flags and singing a rendition by Indian musician A. R. Rahman of of the national anthem Vande Mataram (Mother, I salute thee).
India pulled off a record victory in the final session of a series against Australia on January 19, 2021, handing the hosts their first defeat at Brisbane's Gabba ground since 1988.
The video has been widely shared online in India since the historic match, including on Facebook here and here, on Twitter here and here on Instagram.
The claim, however, is false. AFP found the original footage was actually taken at the Dubai International Stadium in September 2018.
A reverse image on Google using keyframes from the video found the original footage uploaded to YouTube here by Dylan Noel Saldanha on September 24, 2018. 
"Thousands of Indians Singing in Unity in Dubai Cricket Stadium", the video title reads.
Below is a screenshot comparison of the misleading post (L) and 2018 YouTube video (R):
Contacted by AFP, Dylan Saldhana said that he shot the video at the India-Pakistan cricket game at Dublin International Stadium in 2018.
"This was taken at Dubai stadium during an India-Pakistan cricket match in September 2018. It was recorded during an innings break," he said via Facebook Messenger.
India beat Pakistan in a limited-overs series game on September 23, 2018 at the Dubai International Cricket Stadium, according to sports news website ESPNcricinfo.
According to Dubai newspaper Gulf News, the Dubai International Cricket Stadium has a special system of floodlights on the roof known as "ring of fire", which is visible in the videos. 
Below are photos comparing the roof seen in the misleading video (L), and AFP photo which shows the same roof of Dubai International Stadium (R):
However, the Brisbane cricket ground in Australia has the floodlights installed on towers, as seen here on ESPNcricinfo's website.
Below are Getty & AFP photos comparing the Brisbane cricket ground (L) and Dubai International Stadium (R)
AFP photographer Ishara S. Kodikara also captured photos from the Dubai game in September 2018.
The photo caption in AFP archives reads as: "Indian cricket fans cheer in support of their national team during the one day international (ODI) Asia Cup cricket match between Pakistan and India at the Dubai International Cricket Stadium in Dubai on September 23, 2018."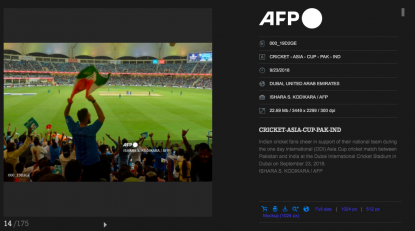 More videos of the crowd singing Vande Mataram were posted on YouTube here and here in September 2018.