This video has circulated in reports about a woman arrested for allegedly assaulting a stranger in Singapore
A video that shows police detaining a woman on a street has been viewed tens of thousands of times in multiple posts on Facebook, Twitter, YouTube and online forums alongside a claim she was arrested for not wearing a mask during the coronavirus pandemic in Singapore. The video, however, has been shared in a misleading context; it has circulated online in reports since October 2020 about a woman who was arrested for allegedly assaulting a stranger in Singapore. 
The video was published here on Twitter on October 21, 2020. It has been viewed more than 5,000 times.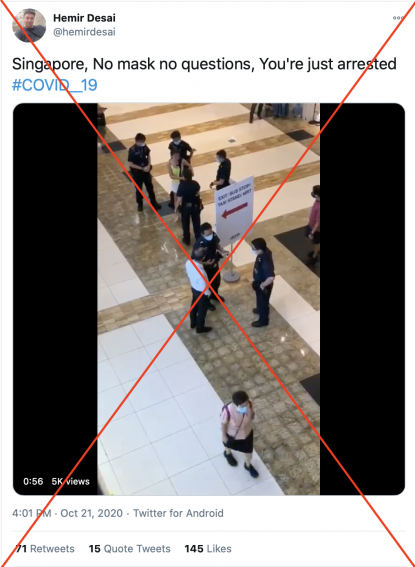 A screenshot, taken on November 5, 2020, of the misleading post.
The caption reads: "Singapore, No mask no questions. You're just arrested #COVID__19".
The video was also shared here, here, here, here and here on Facebook; here, here, here, here and here on Twitter; here, here, here, here and here on YouTube; and on online blogs and forums here, here, here and here alongside a similar claim.
The claim is misleading.
A reverse image search of keyframes extracted from the video found this October 14, 2020 report by Singapore-based news outlet TODAY, that includes a screenshot of the same video.
Screenshot, taken on November 9, 2020, of the news report by Today Online.
The article is headlined: "Woman arrested after she allegedly poured soup on stranger, spat at him and bit his arm".
It reads, in part: "A 35-year-old woman was arrested by police officers at Novena Square mall after she poured soup over a random stranger's head and scuffled with him, the police said in a statement on Wednesday (Oct 14). 
"She was assessed to be posing a danger to herself and the public, and was then apprehended. The woman is now receiving treatment at the Institute of Mental Health."
Below is a screenshot comparison of the video in the misleading post (L) and the TODAY photo (R):
A screenshot comparison of the misleading post and Today Online's screenshot.
The incident was also reported by several Singapore-based news outlets, including the Asia One news website here and Straits Times' citizen journalism website here in October 2020.
The misleading post was also debunked by Indian fact-checking organisation Alt News here on October 21, 2020.