This video has circulated in news reports about an incident in Brazil
A clip of a fatal shooting has been viewed hundreds of times on Facebook and Twitter alongside a claim that it happened in the US city of San Gabriel. The claim is false; this video has circulated in media reports about a fatal shooting in Brazil in August 2020.
The video was published here on Twitter on November 21, 2020. It has been viewed almost 300 times.
WARNING: Distressing content
Screenshot taken on November 26, of the misleading tweet
The tweet's traditional Chinese-language caption translates to English as: "Please report this raid and murder case to the FBI / Location: San Gabriel, Los Angeles, California."
San Gabriel is a US city in California state's Los Angeles county.
The video was also shared here on Twitter, and here and here on Facebook, alongside a similar claim.
The claim is false.
A reverse Google image search found this article published by the Brazilian news portal G1 on August 2, 2020.
Screenshot of the G1 article, taken on November 26, 2020
The Portuguese-language article states in part: "The Civil Police is investigating whether the fatal shooting of an accountant in the South Zone of São Paulo was a robbery or an execution. The incident took place on the morning of last Wednesday (29) in front of the accounting firm where he worked, and was recorded by security cameras (see video below; the scenes are graphic)."
São Paulo is a municipality in Brazil.
The footage embedded in the article shows identical scenes as the video in the misleading tweet.
Below are screenshot comparisons between the Twitter video (L) and the clip in the G1 report (R):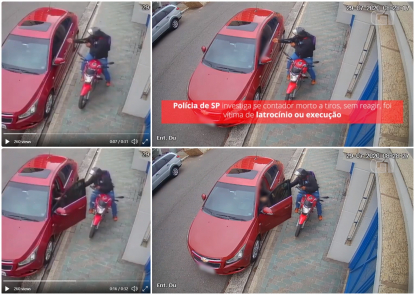 Screenshot comparisons between the Twitter video (L) and the clip in the G1 report (R)
The article states that the car pictured in the video was parked "at Rua Coronel Francisco Inácio, in the Sacomã region".
AFP located the street here on Google Maps.
Other local media, including Agora São Paulo newspaper here, and R7 news portal here also reported on the same incident.
The same claim was also debunked by Taiwanese fact-checking organization Taiwan FactCheck Center here.