This video does show a woman who converted to Islam, but she isn't 'Miss Russia'
A video viewed millions of times on Facebook in various languages claims to show a Russian beauty queen who has converted to Islam. In fact, the woman is a young Ukrainian who adopted the religion in 2015. There were media reports in late 2018 that former 'Miss Moscow' Oksana Voevodina had converted to Islam in order to marry the then king of Malaysia, but this video shows a different woman. 
The same video clip, showing a young woman visiting a mosque, has been widely shared on Facebook in Arabic, French and Italian alongside captions wrongly identifying her as 'Miss Russia', while various versions also exist in English.
"Miss Russia embraces Islam. Amazing!" reads one post sharing the video, archived here, which has been viewed nearly 4,000 times.
A screenshot taken on July 5, 2019 of one of the videos that misidentifies the woman
This version with an Arabic-language caption has racked up more than ten million views, while an Italian version has been viewed nearly 100,000 times. 
Using the video verification tool InVID, we were able to run a reverse image search of the clip's thumbnail image. 
That led us to earlier versions of the video -- the first one we could find dated back to 2015 on a Kazakh website, YVision. According to the Russian-language caption, it shows "a Ukrainian woman from Korovorograd (who) swore her allegiance to the faith in the Islamic Cultural Centre in Kiev".
To help confirm the location, we compared the room seen in the background of the video with photos of the Islamic Cultural Centre in Kiev, available on Google Maps. The scenes do appear to match -- you can see the same red carpet with distinctive white stripes running across it, and the same blue banners at the top of the walls.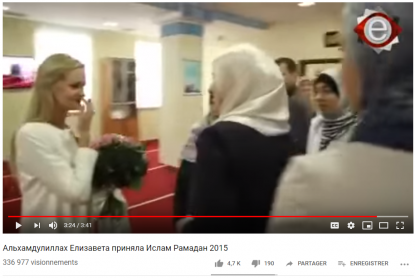 A screenshot of the video showing the woman at the mosque, taken on June 13, 2019
A screenshot from Google Maps, showing the Islamic Cultural Centre in Kiev
We contacted the Islamic Cultural Centre, who confirmed that the woman was indeed a young Ukrainian -- not a Russian beauty queen. Her name is Yelizaveta Bakmach, and she converted to Islam in 2015. 
There was previously a case in the headlines of a Russian beauty queen converting to Islam -- Oksana Voevodina, a former "Miss Moscow". According to media reports, Voevodina changed religion before marrying the then king of Malaysia, Sultan Muhammad V, in November 2018.