This video actually shows Islamic chanting in Bosnia and Herzegovina
A video has been viewed tens of thousands of times on multiple posts on Facebook alongside a claim that it shows Islamic invocations being chanted in Russia. The claim is false; the video has circulated online since 2018 in reports about Islamic invocations performed by a Malaysian Koran reciter in Bosnia and Herzegovina.
This one-minute, 30-second footage was posted on Facebook on May 24, 2020. It has been viewed more than 24,000 times.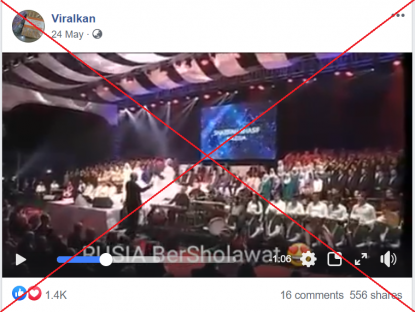 Tangkapan layar unggahan menyesatkan, diambil pada tanggal 8 September 2020
The Indonesian-language text superimposed on the footage translates to English as: "RUSSIA chants Islamic Invocations". 
The footage also circulated on Facebook in 2019, for example here, here, here and here. 
The claim, however, is false. 
A reverse image search followed by keyword searches on Google found this video uploaded by Malaysian-language daily Utusan Malaysia on its YouTube channel on March 26, 2018. 
The Utusan Malaysia video is titled: "The greatness of Sharifah Khasif".
The caption reads: "KUALA LUMPUR March 26 - Video of the country's famous Koran reciter, Sharifah Khasif Fadzilah Syed Mohd Badiuzzaman Al Yahya singing the qasida in Sarajevo, Bosnia Herzegovina at the end of last year started to become viral today.
"The 6-minute, 25-second video shows Sharifah Khasif chanting Selawat Rasulullah in front of more than 10,000 people and accompanied by two Sufi dancers from Turkey, as well as a group of background singers and accompanying musicians."
The scenes in the misleading clip can be seen from the 2:22 mark in the Utusan Malaysia video.  
Below is screenshot comparison between the clip in the misleading post (L) and Utusan Malaysia's video (R):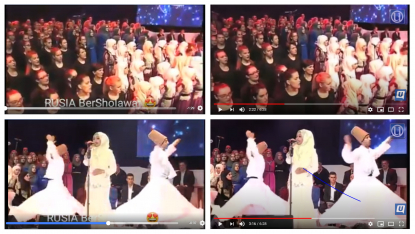 Screenshot comparison between the clip in the misleading post (L) and Utusan Malaysia's video (R)
Sharifah also posted the same video here on her Facebook page on March 24, 2018. 
The post reads: "I feel honoured to represent my country, Malaysia at the glorious International Quran and Qasidah nite in Bosnia & herzegovina with more than 10000 fans from all over the world , after 30 years of blood, sweat and tears....I'm grateful for all the privileges of what being an International Qariah bring my way , the opportunities to see the world, the camaraderie, friendship and more ....Definitely the best memory I will cherish and never forget ..Thank You for having me..❤️".