Trump did not tweet to congratulate Ethiopian PM Abiy Ahmed on his Nobel Prize
A screenshot shared more than 150 times on Facebook claims to show a tweet from US President Donald Trump congratulating Ethiopian Prime Minister Abiy Ahmed shortly after he won the Nobel Peace Prize. However, there is no record of Trump posting such a tweet and the image appears to have been doctored.
The screenshot, shared here and here (archived posts), purports to show Trump congratulating his Ethiopian counterpart on his "brave leadership in Ethiopia".
"This is a good thing for the country and a good thing for the people of Ethiopia," it says.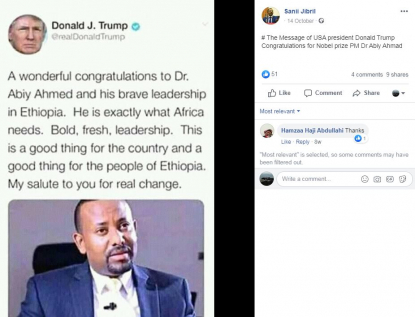 A screenshot of the fake tweet shared on Facebook, taken on 12 December, 2019
One post was shared shortly after Abiy won the Prize on October 11, and another after he collected the award in Oslo on December 10.
The Nobel committee honoured Abiy -- Africa's youngest leader at 43 -- for progress in the months after he took power in April 2018, including formally ending a stalement with Eritrea and pushing to introduce democratic elections in a country long ruled by authoritarian governments.
AFP ran a Google reverse image search on screenshot shared on Facebook and found an earlier share of the post in June 2018, long before Ahmed won the Nobel Peace Prize.
However, an advanced search on Twitter found no trace of the tweet on Donald Trump's official account. We also searched keywords from the screenshot in The Trump Archive, a tool that saves all tweets from Trump's account -- even ones that have been deleted. 
Although Trump has tweeted about Ethiopia in the past, there was no record of a tweet congratulating Abiy Ahmed.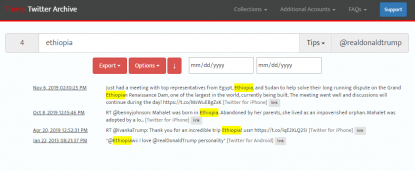 Screenshot of search results from the Trump Twitter Archive, taken on December 12, 2019
Furthermore, an advanced search on Twitter using keywords from the tweet reveals an original post from an account called Habesha Networks. 
Screenshot of advanced Twitter search, taken on December 12th 2019
"A wonderful congratulations to Dr. Abiy Ahmed and his brave leadership in Ethiopia. He is exactly what Africa needs. Bold, fresh, leadership. This is a good thing for the country and a good thing for the people of Ethiopia. My salute to you for real change."
- #DJT? pic.twitter.com/pqw9xfU39O

— Habeshas Network (Yuhe/ዩሔ) (@habeshasnetwork) 21 June 2018
AFP has previously debunked fake Trump tweets relating to Ethiopia. You can read our fact-checks here and here.