These images show a car accident in India in 2015
Photos showing wreckage of a car crash have been shared in multiple Facebook posts and news articles alongside claims they show an accident involving the family of Sri Lankan politician Bimal Rathnayake on February 3, 2021. The claim is false; the pictures in fact show a road accident in India in 2015 and Sri Lankan police dismissed the reports.
The photos were published in this article by Sri Lankan news site Lanka Lives. The article reports that the family of an unnamed former opposition politician were involved in a car crash on February 3, 2021. The report features two photos of a wrecked BMW alongside a partially blurred image of a man. 
Screenshot of the article published on February 04, 2021
"Last evening a BMW 8 series type vehicle was met with an accident in Dehiwala while trying to overtake a truck," the Sinhala-language article claims.
"A 16-year old underage girl and her mother, who received minor injuries have been discharged this morning after being admitted to the Kalubowila hospital for treatment... Confidential sources revealed it was the wife and daughter of a former opposition MP who represented the Kurunegala district, that was involved in the accident." 
The photos of the wrecked BMW featured in the article were also posted in multiple Facebook posts (including here and here) alongside an image of Bimal Rathnayake, a former MP for Sri Lanka's far-left People's Liberation Front.
"The BMW that crashed was given to my wife by a vegetable seller in a market - Comrade Bimal notes," reads one Facebook post sharing the claim.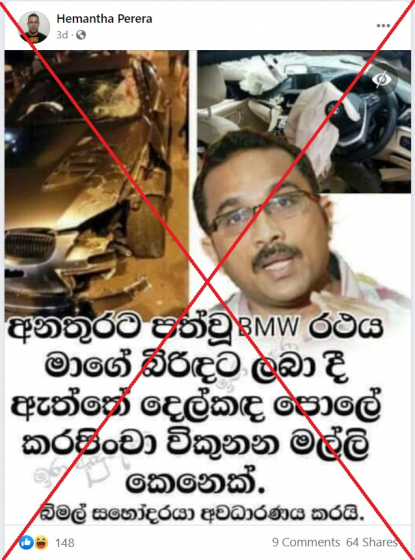 Screenshot of the Facebook post captured on February 10, 2021
The claim, however, is false. 
A reverse image search of the photo showing the exterior of a wrecked BMW led to this report on a car crash in Mumbai, India, published on May 19, 2015.  
Screenshot of the article captured on February 10, 2021
Below is a screenshot of the misleading post's image (L) and the photo published in the 2015 article (R):
Screenshot comparison of the misleading post's image (L) and the photograph published in the article (R)
Police in Dehiwala, the town were the misleading article claims the accident happened, also told AFP that there have been no reports of a car crash involving an ex-MP's vehicle on February 3, 2021. 
Rathnayake himself denied the claim in a Facebook post on February 6, 2021. 
The Sinhala-language post translates to English as: "With regard to a fake news circulated by political opponents with regard to a vehicle accident.
"An alleged accident that is claimed to have occurred a few days back has been linked to my family members and myself and these claims have been circulated on social media by a group of political opponents. 
"The photographs used in the report are from an accident that had occurred in a foreign country."