There's no evidence that Nigeria's President Muhammadu Buhari has died and been replaced by a lookalike
Several high-profile figures in Nigeria, including a former government minister, have claimed President Muhammadu Buhari has died and has been replaced by a lookalike. Social media posts repeating claims that the leader of Africa's most populous nation is an imposter called "Jubril" have been shared and viewed over 500,000 times. But there is no evidence to back up the claim and the government has not commented.
The earliest mention of the claim found by AFP was in a video posted by Twitter user @sam_ezeh, re-posted on September 3, 2017. The video has been shared more than 5,000 times on Facebook and Twitter.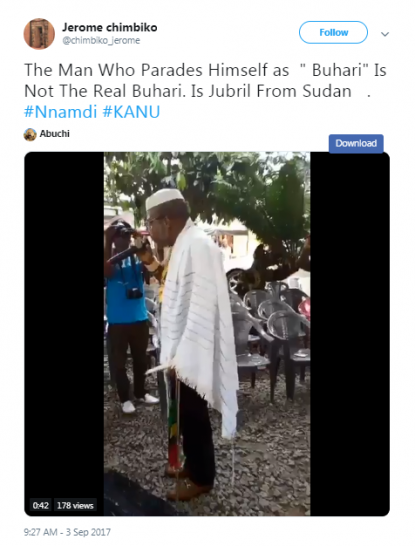 Screenshot of video posted on Twitter showing Nnamdi Kanu, the leader of the Indigenous People of Biafra (IPOB), telling his supporters Buhari had died
"The man you are looking at in the television is not Buhari… His name is Jubril, he's from Sudan. After extensive surgery they brought him back," he says.
In separate broadcasts on his station, Radio Biafra, Kanu has repeated the claim and called the lookalike "Jubril Al-Sudani".
On each occasion, Kanu gave no evidence for the claim.
The rumour appears to have been fuelled further by a real-life event in May this year, when a Nigerian diplomat -- Habibu Almu -- was found dead in the Sudanese capital, Khartoum.
A spokesman for Nigeria's foreign ministry, Tope Adeleye Elias-Fatile, said in a statement on May 14 2018 that Almu had been "stabbed to death" and that a Sudanese woman of Nigerian origin had been arrested.
Sudanese police said the killing did not appear to be politically motivated but the death has fuelled claims online of a link to the apparent cover-up of Buhari's "death" and "Jubril".
Numerous press releases and statements by IPOB have repeated the comments made by Nnamdi Kanu.
Ethnically prejudiced comments concerning Buhari -- a northern ethnic Fulani Muslim -- are commonly made by IPOB members and supporters on social media.
Pro-Biafran protests increased after Kanu was arrested in October 2015 and charged with treason.
That has increased tensions in southeast Nigeria and military operations in the region, nearly half a century after a previous unilateral declaration of an independent Republic of Biafra sparked a 30-month civil war that left more than one million dead.
On a Twitter account opened on October 29 2018, called @mazinnamdikanu and purporting to represent Kanu, several posts have questioned Buhari's identity, claiming to show evidence that it has changed.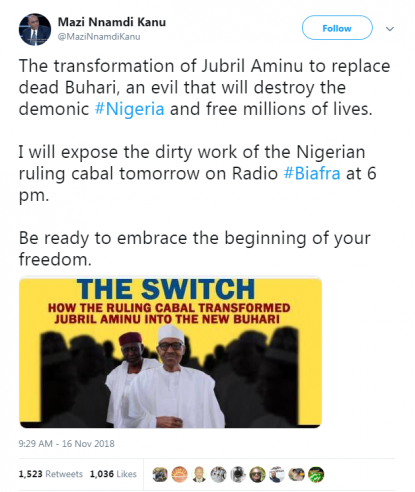 ((A screenshot taken on November 30 of a Twitter post by Nnamdi Kanu, claiming that President Buhari has died and has been replaced by "Jubril Aminu"))
In one post from November 25, 2018, two images show Buhari writing. One image appears to show him using his right hand and his left hand in the other. Buhari is known to be right handed. The post was shared more than 1,500 times.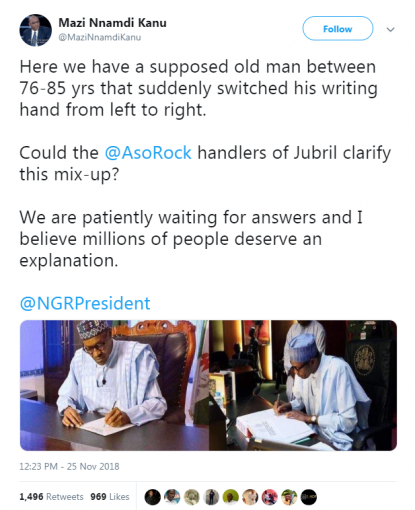 ((A screenshot taken on November 30 of a Twitter post by Nnamdi Kanu claiming to show evidence that President Buhari's identity has changed))
A reverse search of the images posted on the account indicate that the image showing him using his left hand was reversed. Other posts have also claimed to show convincing evidence that Buhari's identity has changed.
In comments responding to many posts where the claim is made, many users seem to disbelieve the "lookalike" claims but many others are persuaded. The claims are used by many who are critical of Buhari.
Since mid-2016, Buhari has made numerous trips to London for treatment for an undisclosed illness, attracting criticism within Nigeria and doubts about his fitness for office.
The claims about his identity originating in September 2017 came a month after Buhari's return from another lengthy medical trip to the British capital.
Changes in his appearance following medical treatment have sometimes been discernable. He has at one point appeared to be thinner. A lack of information about his medical status and differences in his physical condition have helped fuel claims about his identity.
Since September 2017, social media posts, shared tens of thousands of times on Facebook and Twitter, have repeated the claims about "Jubril from Sudan".  Several videos have been viewed on Facebook Twitter and YouTube more than 500,000 times.
Other iterations describe Buhari as "Jibrin from Sudan", "Jubrin" and "Jubril Aminu". Some assert Buhari has been cloned. 
One video even speculates on how a dead Buhari could have been operated on to transfer his appearance to "Jubril from Sudan" and shows a scene from the 1997 film "Face/Off", where the faces of the two main characters are swapped.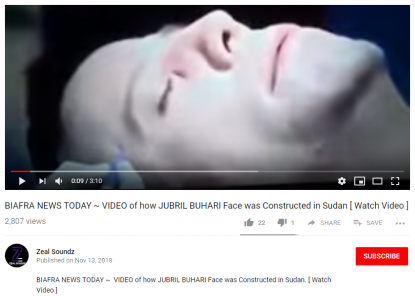 ((A screenshot taken on November 30, 2018, of a Youtube video posted by "Zeal Sounds" narrating a scene from the 1997 film Face-Off in order to show how President Buhari's identity could have changed))
In a Twitter post on April 5, 2018, staunch Buhari critic Femi Fani Kayode, a former government special advisor and minister under president Olusegun Obasanjo, repeated the claim.
A repeat of the claim on his Facebook page was shared more than 400 times.
He claimed a satanic ritual performed on Buhari's dead body had resurrected him through the spirit of "Jubril from Sudan".
Reno Omokri, a former aide to president Goodluck Jonathan, has also questioned Buhari's identity. On September 29,2017, he posted three pictures of Buhari on Twitter and speculated on the differences in the images.
((A screenshot taken on November 30, 2018 of a Twitter post by Reno Omokri, doubting the identity of President Buhari))
The images containing different filters and with varying degrees of sharpness. In one, Buhari is not wearing glasses, as he usually does. But there are no distinct differences in Buhari's physical attributes.
The post was retweeted more than 300 times.
Similar photos purporting to show the difference between a recent version of Buhari and the original president have also been widely shared online.