No, this video does not show strange noises coming from the grave of a Pakistani cleric
A Facebook post that has gone viral shares a video of a rocky pit with audio of groaning noises which it claims are voices coming from the grave of a controversial Pakistani cleric, Maulana Sami Ul-Haq who was murdered in November. The claim is false and the video had circulated online weeks before Haq was killed and buried.
The November 4 Facebook post shares the video with a caption that says: "Horrific voices coming out of Maulana Samiul Haq grave... video by ARY news show. Forgive us O Allah, this condition was because of the curse of the oppressed Afghans. Afghans living on both sides of the border are requested to share".
The video has been viewed more than 1.2 million times since it was posted on November 4.
Maulana Samiul Haq, also known as the 'Father of the Taliban', was murdered on November 2, 2018 at his house near the capital Islamabad and buried a day later in the northwestern Pakistani town of Akora Khattak.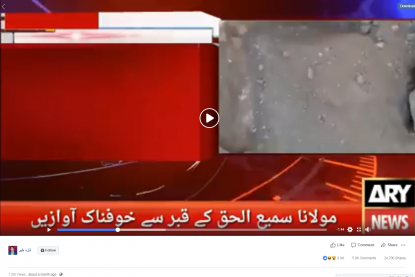 Screenshot of misleading Facebook post
But the video footage of a rocky pit with audio of groaning noises had been widely shared online before Haq was killed and buried.
The footage was posted on Twitter on October 15 with a caption in Arabic saying: "They were digging for gold when a voice emerged. God knows that it might be a spirit".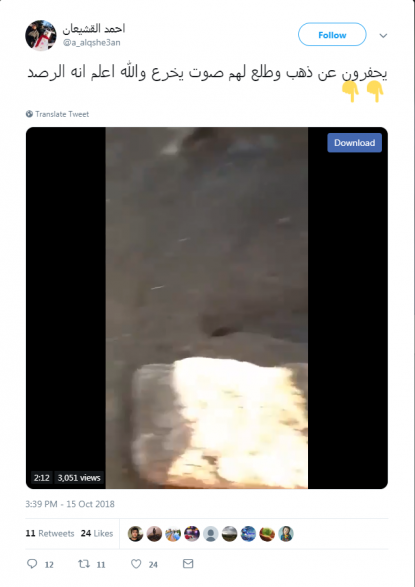 Screenshot of October 15 tweet
It was also posted to Facebook on October 21 and shared on YouTube on October 25, where the caption claimed the footage was from Iran.
The viral video has been made to look like breaking news from ARY, a private Pakistani news television channel.
But ARY's logo is always animated on their actual broadcasts, switching repeatedly from English to Urdu text, as can be seen on this report on their official YouTube channel.
The ARY logo on the viral Facebook video is static.
"This is 100 percent fake. It's not our news report," Sabir Shakir, Islamabad Bureau Chief for ARY news told AFP.