Sri Lankan health experts stress there is no evidence that cannabis boosts immunity against the novel coronavirus
A YouTube video of a doctor discussing the health benefits of cannabis has been viewed thousands of times among Sri Lankan Facebook users alongside a claim that cannabis can boost a person's immunity to the novel coronavirus. The claim is misleading; medical experts have emphasised there is no evidence to suggest that cannabis improves immunity against the virus and have urged the public to follow official government health guidelines. 
The YouTube video was published here on February 4, 2020. It has been viewed more than 17,700 times. 
Below is a screenshot of the misleading post: 
Screenshot of the Youtube video
The Sinhala-language title and caption translate to English as: "Cannabis can improve immunity against Corona – Dr. Wasantha Weliange". 
"Dr. Wasantha Weliange" refers to a Sri Lankan academic. Here is his Facebook profile and here is his LinkedIn profile.
The novel coronavirus has killed more than 2,000 people and infected at least 74,000 others since it began spreading in the Chinese city of Wuhan in December 2019, as reported here by AFP on February 19, 2020.
But nowhere in the 15-minute 39-second YouTube clip does Dr Weliange state that cannabis provides protection against the coronavirus.  On February 4, 2020, Dr Weliange shared the YouTube video on his Facebook page in a post that has since been shared over 4,500 times. Weliange also linked to a petition to legalize cannabis in Sri Lanka.
A similar claim about cannabis' ability to boost immunity against the coronavirus was published on Facebook here, here, here and here.  
The claim is misleading.
"There is no evidence to even suggest cannabis can improve immunity against the novel coronavirus," Dr. Ashan Pathirana, the registrar of Sri Lanka's Health Promotion Bureau, told AFP by phone on February 12, 2020. "Furthermore, use of cannabis is known to have posed a series of health complications such as respiratory issues." 
Dr. L.P.A. Karunathilake, a senior lecturer of indigenous medicine at the University of Colombo, also stated that there is "absolutely no truth" in the claim that cannabis improves immuniaty against coronavirus. 
"There is no evidence to prove cannabis improves immunity against COVID-19," Karunathilake added, referring to the virus by its official name. "We urge the public to ensure they follow the guidelines issued by national agencies to minimize risk of COVID-19 transmission."
Sri Lanka's Health Ministry issued these guidelines following the coronavirus outbreak. Below is a screenshot of the recommendations: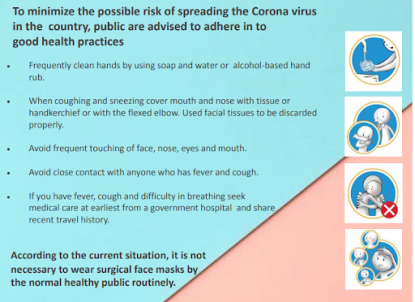 Screenshot of the recommendations
The US-based National Academies of Sciences published this 2017 report titled "The Health Effects of Cannabis and Cannabinoids: The Current State of Evidence and Recommendations for Research".
The report found that there is "insufficient data to draw overarching conclusions concerning the effects of cannabis smoke or cannabinoids on immune competence."