This report is a hoax -- the video was filmed one year before the novel coronavirus outbreak
An online report has been shared in repeatedly in multiple posts on Facebook and YouTube which purports to show Philippine authorities confiscating fake cigarettes that were spreading the novel coronavirus, COVID-19. The claim is false; the video in the report actually shows the Philippines customs bureau seizing fake cigarettes in May 2018, more than one year before the coronavirus outbreak; the site that published the report is not a reputable news site.
The report was published online here. The text, written in both English and Filipino, translates in part as: "FAKE CIGARETTE that is spreading corona virus has reached the Philippines. / The Bureau of Customs has raided three warehouses in Meycauayan City, Bulacan. To stop the proliferation of locally made fake cigarettes and smuggled fake cigarettes in the Philippine market".
Meycauayan is a city located just north of Manila, the Philippine capital. 
The report adds that the "full story" about the cigarettes spreading coronavirus can be viewed in the embedded video. The video, which purports to be a broadcast from ABS-CBN News, plays for about three seconds before prompting viewers to share the report on social media to continue watching.
Below is a screenshot of the misleading report:
Screenshot of report
The same link was published on Facebook here on March 9, 2020.
Below is a screenshot of the misleading post: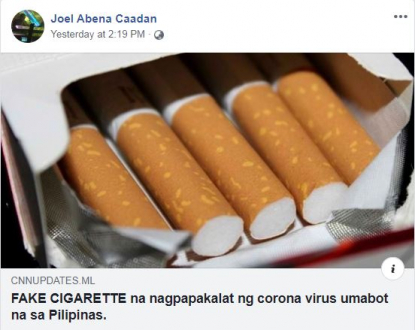 Screenshot of Facebook post
The same report was also shared on Facebook here and here. A similar claim was shared alongside stills from the video on YouTube here.
The claim is false; the video clip is being shared in a misleading context.
Keyword searches on seizure operations conducted in Meycauayan City found that the footage was originally published on May 31, 2018 on the Facebook account for the Philippines Bureau of Customs.
The three-second clip embedded in the misleading report corresponds to the four-second to seven-second mark in the agency's Facebook live video.
Below is a screenshot comparison of the video in the misleading page (L) and the customs bureau video (R):
Screenshot comparison
The customs bureau operation was also reported on May 31, 2018 by several Philippine media outfits, including GMA News here and the state-run Philippine News Agency here.
The coronavirus first emerged more than a year later in late December 2019 in the Chinese City of Wuhan. The virus has since infected more than 110,000 people and killed at least 4,000 people worldwide, AFP reported here on March 10, 2020.
The Philippines has 33 confirmed COVID-19 cases as of 4pm on March 10, the Department of Health reported.
The website which published the misleading report is not a reputable news site. The report lacks a byline, basic information about its publishers, and uses a URL that appears to mimic the news organization CNN.