Posts misleadingly claim Muslim woman appointed 'director' of India's space agency
A photo has been shared in multiple Facebook and Instagram posts alongside a claim that it shows a Muslim woman, Khushboo Mirza, who was purportedly appointed "director" of the Indian Space Research Organisation (ISRO). The claim is misleading: there is no such post within the ISRO. Mirza has worked as a scientist for the organisation since 2006, according to her LinkedIn profile and says she has never held the post of "director". 
The photo was published here on Facebook on June 2, 2021.
The post's Hindi-language caption translates to English as: "Young Khushboo Mirza becomes the director of ISRO due to her talent."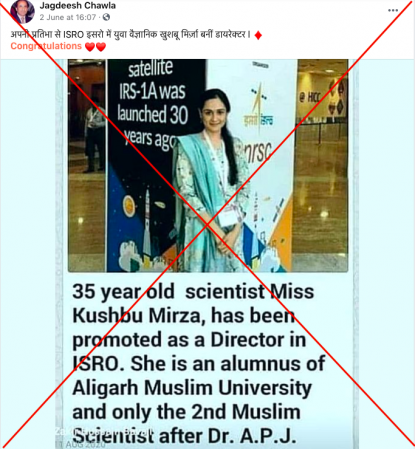 The text superimposed on the image translates as: "35-year old scientist Miss Khushboo Mirza has been promoted as the director in ISRO. She is an alumnus of Aligarh Muslim University and the only 2nd Muslim scientist after APJ Abdul Kalam to hold this rank at ISRO."
ISRO is the Indian Space Research Organisation.
Aligarh Muslim University is located in the north Indian city of Aligarh.
APJ Abdul Kalam was a former space scientist and President of India.
The photo was shared with a similar claim on Facebook here and here; and here on Instagram.
The claim is misleading.
There is no position with the title "director" within the ISRO, according to this page on the agency's website.
The agency's most senior position is the chairman. K. Sivan is listed as the chairman as of June 22, 2021.
Khushboo Mirza has been working as a scientist with ISRO since 2006, according to her official LinkedIn profile.
Mirza was part of the research team of India's space missions to moon in 2008 and 2019, as reported by Indian news outlets Indian Express; TwoCircles.net; News18; and Patrika.
Several Indian news websites, for example here and here, misleadingly claimed Mirza was promoted to director within the ISRO in June 2020.
Mirza denied rumours of her promotion here in a Facebook post on June 27, 2020.
Below is a screenshot of her Facebook post:
She told Indian news site The Quint in June 2021: "The claim that I have been promoted to the Director rank in ISRO is absolutely false. Such claims have been made in the past as well. I have brought this to the notice of my organisation as well."
Former Indian president APJ Abdul Kalam has also never held a top position in the ISRO as claimed in the misleading posts. His name does not feature in this list of former chairmen within the organisation.