Posts falsely claim minority jobless rate lowest under Trump
A Facebook post shared tens of thousands of times claims unemployment for minorities hit an all-time low under Donald Trump, and that Joe Biden "killed" 135,000 jobs. This is false; Black men over the age of 20 did not enjoy record employment under Trump, and in the first month of Biden's presidency, jobs were added, not lost.
Such claims are difficult to gauge because joblessness data for minorities was not recorded when America's overall unemployment rate reached its lowest level in the 1950s and 60s. And even when such information began to be collected, it still took decades longer for Asian Americans to be recorded than it did for Black workers.
The post, however, shared more than 420,000 times since the end of January, includes an image of former president Trump with the claim: "Lowest unemployment rates for minorities ever," and a photo of Biden who, it says, "Kills 135,000 jobs in just the first week."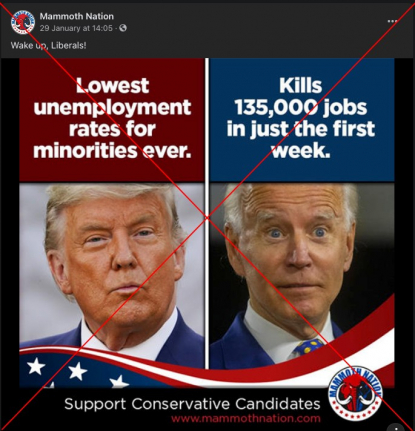 Screenshot of a Facebook post taken on February 12, 2021
Claim: "Lowest unemployment rate for minorities ever"
"The historical data for minorities does not start until the 1970s (for Blacks and Hispanics) and 2000 (for Asians). This introduces a comparison problem, because the general unemployment rate reached a record low in the 1960s, with White unemployment reaching a low of 3.0 percent in 1969. This is the same rate as White unemployment reached in Feb. 2020. In other words, it's possible that minority unemployment rates reached a lower unemployment rate in the late 1960s," Michael Farren, an economist with the Mercatus Center at George Mason University, told AFP by email.
This view was echoed by Dean Baker, senior economist at the Center for Economic and Policy Research, who said by email that "the unemployment rates for minorities were almost certainly lower at the end of the 1960s and during WWII."
Looking at available data, the unemployment rate was relatively low for minorities during Trump's time in office but the claim of "lowest ever" is not accurate for all groups.
The US Bureau of Labor Statistics (BLS) recorded an unemployment rate for Black or African American men over the age of 20 of 5.3 percent in October and November 2019, the lowest during President Trump's time in office, but still higher than 5.2 percent recorded in December 1973.
By contrast, again considering available data, Asian Americans did see their lowest recorded unemployment rate during Trump's presidency, reaching 2.2 percent in May 2018 and June 2019. Prior to this, the lowest unemployment rate for Asian Americans had been 2.4 percent in July 2006. The same can be said for Hispanic Americans, reaching a lowest recorded unemployment rate of four percent in September 2019.
The BLS data for American Indians and Alaska Natives only spans 2000 to 2018, making historical comparisons difficult. The lowest recorded unemployment rate was 6.6 percent in 2018.
The unemployment rate for Black and African Americans and Hispanic Americans has remained consistently higher than that of White Americans.
Screenshot of a US Bureau of Labor and Statistics graph, taken on February 12, 2021
Claim: "Kills 135,000 jobs in just the first week"
Although the source of this claim is not given, "it appears to be an aggregation of various predictions of job losses resulting from recent executive orders, including cancellation of the planned extension of the Keystone pipelines, limitations on oil and gas drilling on federal land, suspension of construction work on some border security projects, and an increased minimum wage for federal workers," Alex Arnon, senior analyst for the Penn Wharton Budget Model, told AFP by email.
"There is no evidence to support a forecast of 135,000 jobs lost as a result of these actions, and the direct employment effects are likely to be much smaller," added Arnon.
Other social media posts have falsely claimed that Biden's decision to halt construction of the Keystone XL pipeline has cost tens of thousands of jobs -- a claim debunked by AFP Fact Check here.
Farren and Baker also cast doubt on the figure of 135,000 lost jobs. Baker adds that Biden "would not be responsible in any case, since nothing he has done could have had much impact on the economy yet." 
The latest BLS data, published on February 5, 2021, shows a very slight increase of 49,000 jobs added to the US economy in January 2021, the month Biden assumed the presidency
By comparison, 140,000 jobs were lost in December 2020, Donald Trump's last full month in office, a figure much closer to the one claimed in the post.
Presidential influence on the unemployment rate
Claims that an individual presidential administration can be credited or blamed for shifts in the unemployment rate are difficult to prove for specific periods.
"Presidential administrations, while capable of influencing the economy, are not the primary driver of economic outcomes -- market forces far larger than politics are responsible for macroeconomic shifts" said Mercatus Center's Farren.
"While some politically-created economic outcomes do occur in the short-term, many are not fully experienced until years have passed—they must be gradually adapted to, meaning that they result in long-run economic changes," he added.
Impact of the COVID-19 pandemic
Due to the Covid-19 pandemic, the unemployment rate in the United States reached its highest level since the Great Depression, 14.8 percent, in April 2020. All groups, apart from African Americans, saw their individual unemployment rates reach their highest levels since records began.
The latest data for January 2021 saw the rate of unemployment drop to 6.3 percent.