Photos of Palestinian activist falsely linked to claims of sexual abuse
Photos of Palestinian activist Lama Khater circulated on social media alongside the claim that women are being abducted and sexually abused. But Khater says the photos were taken when she was arrested by Israeli forces nearly three years ago, and that "no female prisoner was raped" during her 13-month detention. 
"THEY ARE ABDUCTING WOMEN AND RAPING THEM!," says a May 22, 2021 Instagram post that includes the hashtag #FreePalestine and features two photos, one of a woman hugging a young boy and another apparently showing her with multiple people in uniforms.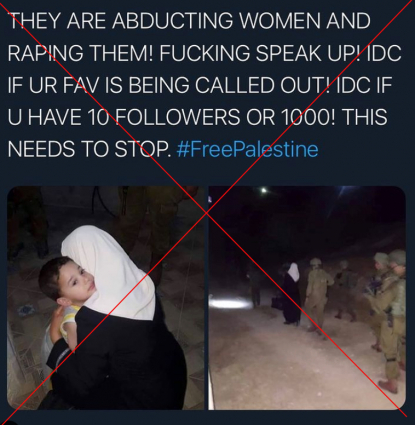 A screenshot of an Instagram post taken on May 26, 2021
Similar posts -- which do not identify the perpetrators of the alleged abuse -- can be found on Facebook here and Instagram here.
The posts spread online after a ceasefire halted May 2020 violence between Israel and Palestinian armed groups that left more than 260 people dead, the vast majority of them residents of the Gaza Strip.
A reverse image search for the photo in the posts of the woman and the child found news articles from 2018 in Arabic and English that identified her as Khater, an activist and writer from the West Bank city of Hebron.
She told AFP that the photos were taken on July 24, 2018 and confirmed that they are of her.
"I was arrested by the Israeli army, I was detained for 13 months," Khater said. The child in one of the photos is her youngest son, Yahya, who was two years old when she was arrested. 
Khater also referred AFP to a 2019 article that describes the poor conditions during her detention, including sleep deprivation, but does not mention sexual abuse.
Asked about the text of the social media posts featuring her image, she said: "In fact this is not accurate, no female prisoner was raped."
"I am ok, but I cannot say that I am safe. There is no safety while we are under occupation," Khater added.
AFP Fact Check has debunked other inaccurate claims about the Israeli-Palestinian conflict here.