This photo of Taiwanese soldiers was taken at a photocall in 2016, before the military accident in July 2020
An image has been shared in a Facebook post that claims it shows Taiwan's president inspecting Taiwanese troops conducting a drill in a swimming pool shortly after a fatal accident during a military drill at sea. The same image has been shared hundreds of times in multiple Facebook posts with a similar claim. The claim is false; the photo shows Taiwanese soldiers at a photocall in September 2016.
The image was published here on Facebook on July 6, 2020. It has been shared more than 280 times. It shows a group of soldiers sitting in an inflatable raft.
The photo was published in a Facebook group that supports Taiwanese opposition political party Kuomintang. The group has almost 50,000 members.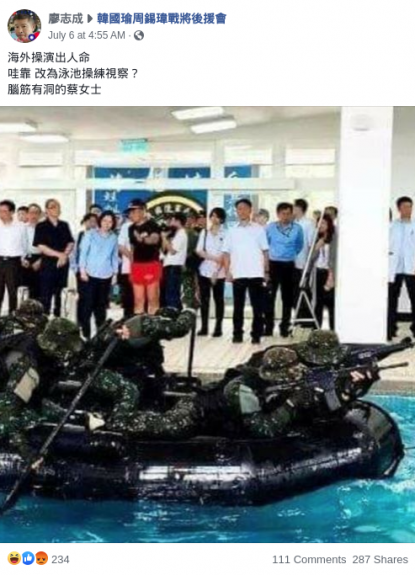 A screenshot taken on July 14, 2020, of the misleading post
The traditional Chinese-language caption translates as: "Lives were lost during a military drill in the sea / wow / switching to troop inspection at a swimming pool? Ms Tsai [Ing-wen] is stupid". 
The claim circulated online just days after a boat capsized during a military exercise off the coast of Kaohsiung in southern Taiwan on July 3, 2020. At least two soldiers were killed in the accident, Taiwanese newspapers Taiwan News and Taipei Times reported here and here.
The image was also shared on Facebook here, here and here alongside a similar claim.
The image, however, has been shared in a misleading context. 
A reverse image search on Google found this September 9, 2016, video published on YouTube by Taiwanese broadcaster CTV.
A similar scene, captured from a different angle, can be seen at around the two-minute 22-second mark of the CTV video.
Below is a screenshot comparison between the image in the misleading post (L) and the CTV video at its two-minute 20-second mark (R) with similar features circled in red by AFP:
Screenshot comparison between the image in the misleading post (L) and the CTV video at its two-minute 20-second mark (R)
The headline of the CTV video translates to English as: "President Tsai Ing-wen travelled to Kinmen Islands for the first time to visit the army / Sea Dragon Frogman showed off their skills │CTV News 20160910".
The caption of the video states in part: "It is mid-autumn festival next week, so this morning President Tsai Ing-wen took the opportunity to visit and thank the Army 101st Amphibious Reconnaissance Battalion, most commonly known as the Sea Dragon Frogman of the Republic of China." 
Tsai's visit to the army was also reported by Taiwanese broadcaster CTS here in September 2016.