This photo shows a security guard in Malaysia having a meal
Two photos — one of a man eating an austere meal and another a close-up picture of his food — have been shared in multiple Facebook posts. The photos were published in posts that comment on perceived hardships experienced by common people in Sri Lanka. The posts, however, lack context. The photos in fact show a security guard in Malaysia eating a meal. 
The photos were published on Facebook here on March 8, 2021. The post has been shared over 3,000 times. 
The post's Sinhala caption translates to English as: "Innocent people suffer more than we think. Hope their expectations will be realized one day."
Screenshot of the Facebook post captured on March 11.2021
The photos were also shared alongside similar claims on Facebook here, here and here.
Other Facebook users appeared to believe the posts were commenting on the plight of a worker in Sri Lanka, posting comments such as: "Take a look at our PM Rajapaksa safeguarding the entire country after eating a hearty meal of hoppers unlike the security guard who eats rice with onions".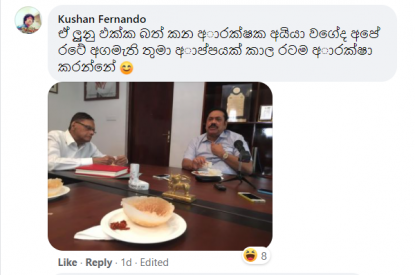 The posts, however, are missing context.
A reverse image search, found by a keyword search on Google, found that the photos in fact show a security guard eating a meal in Malaysia. The photos were posted here by a Malaysia-based Facebook user on March 7, 2021. 
The Malaysian-language post translates to English as: "Diligent work ... The salary is the same as other people's .. But why does he eat white rice + boiled water gravy + onion + garlic ???
"Because he loves his family back in the village... He said that he spends less than 100 [Malaysian ringgit] per month, all remaining part of his salary is sent back to his village. Whenever I have extra earnings, I would buy him a meal. Hopefully everything will be alright for him."
Below is a screenshot of the post from the Malaysian Facebook user: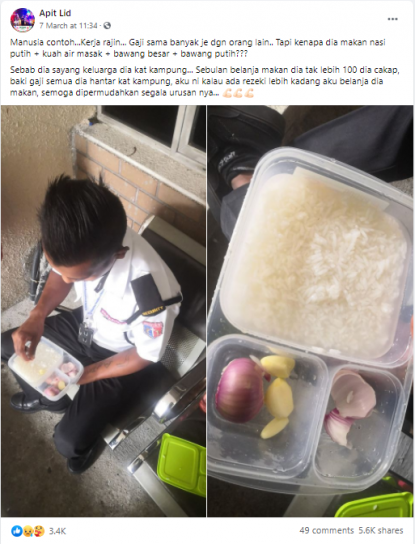 Screenshot of the photos posted by a Malaysian Facebook user
An examination of the photo also indicates that the worker seen in the photo is from Malaysia. The badge on the man's shirt reads Paraforce, a security firm based in the Malaysian state of Selangor, and his ID badge lanyard reads: "National Heart Association of Malaysia". 
Below is a screenshot of the photo with the noted features circled in red: 
A closer look at the image of the security guard