This photo shows Nawaz Sharif meeting a former German foreign minister in 2013
A photo has been shared hundreds of times in multiple posts on Facebook which claim it shows former Pakistani Prime Minister Nawaz Sharif meeting the Israeli ambassador to "sell out" Pakistan's nuclear secrets in exchange for moving his business to Israel. The claim is false; the photo has been doctored to replace the German flag with the Israeli flag; the original photo shows Sharif meeting former German Foreign Minister Guido Westerwelle in Islamabad in 2013.
The photo was published on Facebook here on September 22, 2020. The post has been shared more than 400 times. 
The post's Urdu-language caption translates to English as : "This is the meeting in which Nawaz Sharif met with the Israeli ambassador and made a deal to take his business to Israel in exchange for Pakistan's nuclear secrets. Be reminded that it is the same deal which has been mentioned in the 10th volume of the JIT (Joint Investigation Team) report as evidence."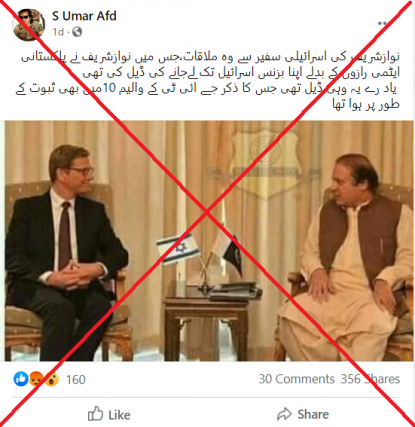 A screenshot taken on September 24, 2020, of the misleading Facebook post
The same image was also shared here, here and here on Facebook alongside a similar claim.
The claim is false.
A reverse image search on Google found the image was doctored from this photo by Getty Images. The original shows Sharif meeting the visiting former German Foreign Minister Guido Westerwelle in Islamabad in June 2013.
The photo's caption reads: "Pakistani Prime Minister Nawaz Sharif (R) listens to German Foreign Minister Guido Westerwelle during a meeting at the Prime Minister House in Islamabad on June 8, 2013. Westerwelle arrived in Islamabad to met with the Pakistani leaders. AFP PHOTO/ AAMIR QURESHI (Photo credit should read AAMIR QURESHI/AFP via Getty Images)."
Below is a screenshot comparison of the image in the misleading Facebook post (L) and the original Getty Images photo (R) with the doctored flag circled in red:

A screenshot comparison of the photo in the misleading Facebook post (L) and the original Getty Images photo (R) with the doctored flag circled in red by AFP