This photo shows a hotel resort in Bali, Indonesia
A photo has been shared in multiple Facebook posts claiming to show a hotel that was built at a UNESCO world heritage site in Sri Lanka by Yoshitha Rajapaksa, the son of the country's current prime minister. The claim is misleading; the image actually shows a hotel resort located on the Indonesian island of Bali; Yoshitha had also denied owning a hotel at the heritage site in a statement on August 24, 2020. 
The photo was published on Facebook here on August 23, 2020. The post was shared more than 1,400 times before it was deleted. 
The Sinhala-language text superimposed on the image translates to English as: "The latest hotel built by Yoshitha in Deniyaya. Now do you understand why they are cutting down Sinharaja to build that road?"
Also translated from Sinhala to English, the caption of the Facebook post states: "Carlton Deniyaya. Our efficient veteran built a hotel in Deniyaya". 
Screenshot of Facebook post published on August 23, 2020
Yoshitha Rajapaksa, a former naval officer, is one of Sri Lankan Prime Minister Mahinda Rajapaksa's three sons. 
Deniyaya is a southern Sri Lankan town that borders the Sinharaja Forest Reserve, which was designated as a UNESCO heritage wilderness site in 1988. The rain forest recently made headlines after an environmentalist alleged that a road had been built on the protected land to connect a hotel owned by Yoshitha to other highways.
The photo was also shared alongside a similar claim on Facebook here, here, here and here. 
However, the claim is misleading. 
In a statement released here on Twitter on August 24, 2020, Yoshitha denied the allegations, adding that he was pursuing legal actions against individuals who made the claim. 
I strongly deny fake allegations made by certain individuals that I own a hotel in the Sinharaja Forest Reserve. My lawyers are pursuing legal action against those who have made such claims & demand that these statements are corrected immediately. pic.twitter.com/CCsnhjVeLx

— Y K Rajapaksa (@YoshithaR) August 24, 2020
A keyword search on Google also found no credible reports that Yoshitha has built a hotel on an UNESCO site. 
A reverse image search on Google found the image in the misleading post published here on the website of Nandini Jungle Resort and Spa in Bali, Indonesia.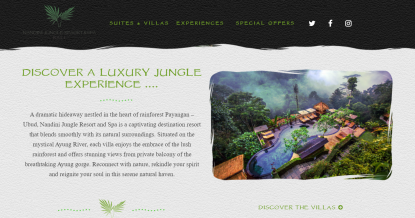 The photograph was published on the resort's official website
The photo was also published here in a listing for the Bali resort on Agoda, a popular travel website.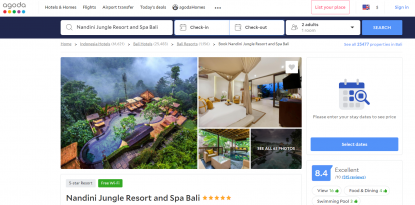 The photograph was also published on Agoda
Below is a screenshot comparison of the image in the misleading post (L) and the photo on Agoda (R):
Screenshot comparison of the misleading post image (L) and the image on Agoda (R)