This is a photo from the Indian city of Lucknow
A photo of a traffic jam on a garbage-filled street has been shared thousands of times on Facebook with the claim that it shows a scene from Khyber-Pakhtunkhwa, a northwestern Pakistani province bordering Afghanistan. The claim is false; the photo was in fact taken in Lucknow, the capital of the Indian state of Uttar Pradesh.
The photo was shared in this Facebook post, which has been shared more than 11,000 times since March 17, 2021.
The image shows a busy street with cows standing on a pile of garbage that spews out onto the road.
The Urdu caption on the post reads: "A scene from the new Khyber-Pakhtunkhwa. If you want such a new Pakistan, then vote for the PTI. Those who love the lion, do share."
Khyber-Pakhtunkhwa is one of Pakistan's four provinces, located on the Afghan-Pakistan border. It has been ruled by the Pakistan Tehreek-e-Insaf (PTI) party since 2013.
"Lion" is a reference to the symbol of the rival Pakistan Muslim League (Nawaz) party.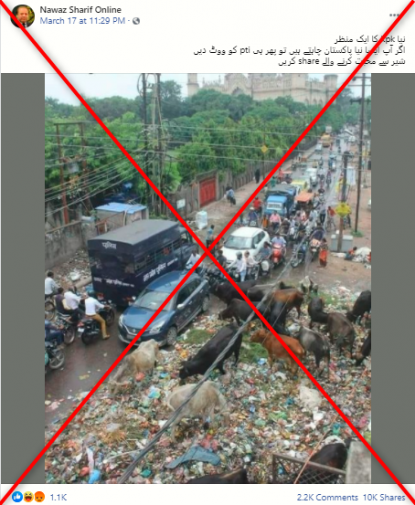 A screenshot taken on March 22, 2021 of the misleading Facebook post
The same photo was shared here, here and here on Facebook alongside a similar claim. 
However, the claim is false.
An AFP correspondent in New Delhi identified text on the blue van in the photo as reading "Uttar Pradesh Police" in Hindi.
Uttar Pradesh is a state in India and Hindi is an official language of India, not Pakistan. 
The same journalist recognised the street in the picture as being from his hometown in Lucknow, the capital of Uttar Pradesh. He said that the road was Hussainabad Road near Unity College. 
Local reporter Syed Abdul took a photo of the street, which he confirmed was Hussainabad Road.
A photo of Hussainabad Road, Lucknow, India. (Syed Abdul)
Several visual clues visible in the picture circulating on Facebook and in Abdul's photo confirm the location is the same, including Takiya mosque, cables and a brown door leading off the street. 
This combination shows visual clues visible in the picture circulating on Facebook (L) and in the local reporter Syed Abdul's photo (R)
Below is the Google Earth screenshot of the location marked with the red circle: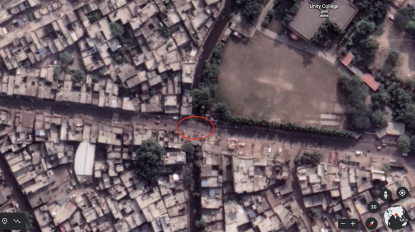 A screenshot taken on March 22, 2021 of the Google Earth showing the location in Indian city of Lucknow