This photo has circulated online since at least 2014 -- years before the COVID-19 pandemic
A photo showing scores of green parrots sitting on sacks of grain has been shared thousands of times in multiple posts on Facebook and Twitter alongside a claim it was taken during a nationwide coronavirus lockdown in India. The claim is false; the photo has circulated online since at least March 2014.
The photo was published on Facebook here on April 28, 2020. The post, which includes a mirrored version of the same photo, has been shared more than 7,100 times.
Below is a screenshot of the misleading post: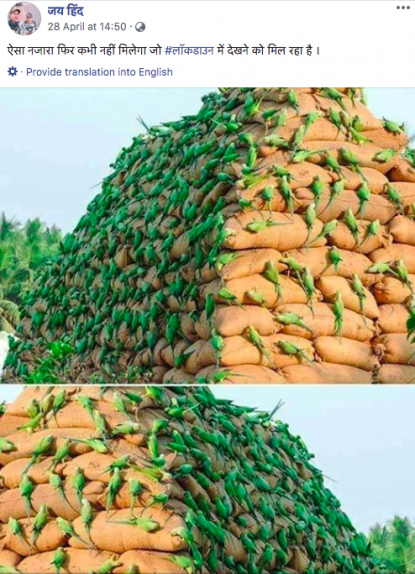 The post's Hindi-language caption translates to English as: "You won't get to see such a scenario other than in the current lockdown in India."
India has been in nationwide lockdown since March 25, 2020. It has since been extended several times and is now expected to remain in force until at least May 17, 2020, according to the government's latest announcement.
The photo has also been shared alongside a similar claim here and here on Facebook and here on Twitter. 
The claim, however, is false.
A Google reverse image search found the photo was originally published here on Nature Forever, a blog about nature and conservation, on March 15, 2014. 
The blog post, written by a writer named Vivek Rathod, reads in part: "We set out next day from Yanam towards Amalapuram, Narsapur towards our friend's village near Pallakollu… when we got to see this amazing picture of not 50 but nearly 100 or more parrots, perched up on rice bags, and feeding. It was a sight to behold."
Below is a screenshot of the post:
 
Rathod told AFP the photo was taken years ago and is unrelated to the ongoing COVID-19 lockdown in India.
"I took these photos in February 2014 and published on a blog a month later. These photos were taken near a town in southern Indian of Andhra Pradesh," he said by phone on May 7, 2020. 
Rathod also published the image here on his Facebook account in 2016.
Below is a screenshot of the photo: