This photo has been manipulated to feature a doctored placard and the Chinese flag
A photo purporting to show people kneeling in front of the Chinese flag has been shared in multiple posts on Weibo, Twitter, Facebook and various forums alongside claims that it was taken during the ongoing nationwide protests against police brutality in the US. This claim is false; the photo has been doctored to include a placard and the Chinese flag.
The photo was published here on Weibo on June 1, 2020.
It shows a group of people kneeling in front of a large Chinese flag as another flies behind them. One person in the group is also seen holding a placard that reads "HELP US CHINA".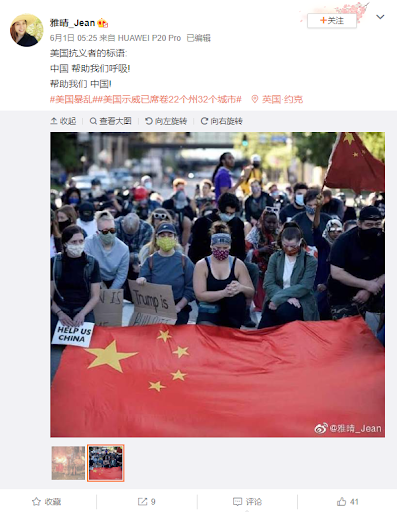 A screenshot taken on June 5, 2020, of the misleading post published by Weibo user 雅晴_Jean
The caption, written in simplified Chinese characters, translates to English as: "Slogan of US protesters: China, help us breathe! Help us China! #USRiots #USProtestersHasCovered22States32Cities".
The photo was published alongside another photo that allegedly shows a US protester calling on China to intervene in the ongoing protests, which has previously been debunked by AFP here.
Mass protests erupted across the US following the death of George Floyd, an unarmed black man, in Minneapolis police custody on May 25, 2020. Here is an AFP report on the unrest.
The photo has also circulated alongside similar claims on Twitter here and here; on Facebook here; and on the online forum 4chan here.
However, the claim is false; this photo has been doctored. 
A combined Google reverse image and keyword search found this original photo published by Reuters on May 30, 2020.
A screenshot of the photo on the Reuters website
The photo description reads: "Peaceful demonstrators observe a moment of silence outside the U.S. Bank Stadium during the fourth day of protests after the killing of George Floyd in Minneapolis, Minnesota, U.S. May 29, 2020. Picture taken May 29, 2020. REUTERS/Nicholas Pfosi"
The Reuters photo does not show the two Chinese flags, or a pro-China placard.
Below is a screenshot comparison of the photo in the misleading post (L) and the Reuters photo (R):
Screenshot comparison of the photo in the misleading post (L) and the Reuters photo (R)