This photo has been doctored to include a manipulated placard about Myanmar's 2020 elections
An image has been shared thousands of times in multiple posts on Facebook alongside a claim it shows a Myanmar actor urging people to vote for Aung San Suu Kyi's National League for Democracy (NLD) party in the upcoming general elections in Myanmar. The claim is false; the photo has been doctored to include a manipulated placard; the original photo published by the actor on his Facebook page in March 2020 shows a placard that asks people to stay at home during the COVID-19 pandemic.
The image was published here on Facebook on May 12, 2020. It has been shared more than 9,700 times.
It shows Myanmar actor and director Ko Pauk holding a placard that reads; "Let's vote for NLD to prevent thieves in Myanmar" in Burmese.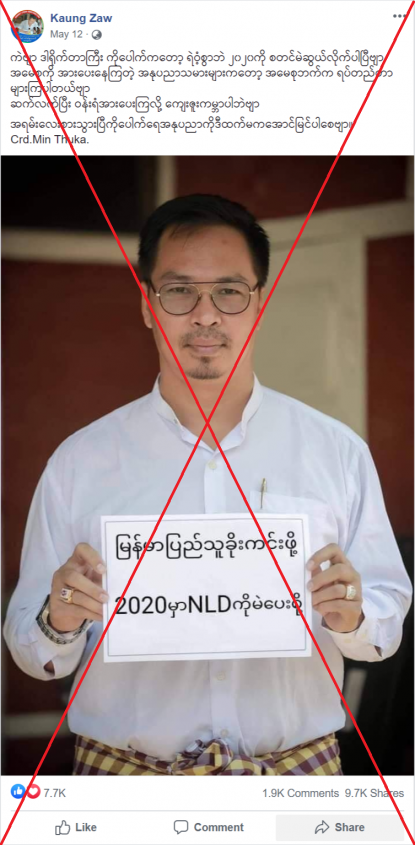 A screenshot taken on August 7, 2020 of the misleading Facebook post
The post's Burmese caption translates to English as: "Well, director Ko Pauk has boldly started campaigning for 2020. The artists who support Mother Suu Kyi are often on the side of Mother Suu Kyi. Thank you for your continued support. I respect you so much, I wish Ko Pauk more success in his art. Crd.Min Thuka."
Myanmar will hold a general election on November 8, 2020, in what is widely seen as a test for the country's fledgling democratic government led by Aung San Suu Kyi, as reported in this AFP article. Suu Kyi previously ushered her National League for Democracy (NLD) to a landslide victory in 2015 polls after five decades of military rule.
The same photo was also shared here and here on Facebook with a similar claim.
The claim, however, is false.
A keyword search on Facebook found the original photo published here on the actor's Facebook page on March 24, 2020.
A screenshot of the photo on Ko Pauk's Facebook page
The Burmese placard translates to English as: "Do not go outside. Stay at home. Protect yourself and your earth. Stay at home and read books".
The image is captioned: "Recite a lot of Dharana Paritta. Read at home."
Paritta is the Buddhist practice of chanting "during large public rituals designed to avert collective, public danger", according to Encyclopedia Britannica.
Below is a screenshot comparison of the image in the misleading post (L) and photo published on Ko Pauk's Facebook page: