Photo of antenna in fake cactus taken almost a decade before 5G technology
Facebook posts claim to show a 5G antenna hidden in a fake cactus. This is false; the image is of a cell tower in the US state of Arizona and was taken in 2009, almost a decade before 5G technology emerged.
"Yes that is a 5G tower disguised as a cactus courtesy of the trump administration," one false post claims. 
Screenshot of a false Facebook post, taken on June 5, 2020
Similar posts are available here and here, and the false information has also been shared more than 30,000 times in Spanish.
Image origin
A Google reverse image search reveals that the photo is cropped from a wider scene.
Searching for the full photograph yields an article titled "25 Cell Phone Towers Disguised to Look Like Something Else," which credits an August 10, 2012 Reddit post for the photo and identifies the structure as a cell tower in Arizona. 
A second search for the photo plus "Arizona," with results limited to January 1, 2000 to August 10, 2012, yields this article, which credits James S. Wood of the Arizona Daily Star for taking the photo in 2009.
"Yes I took that photo," Wood confirmed in an email to AFP, noting that it was common practice for the state to disguise cell towers as Saguaro cactus and palm trees "to make them more appealing." 
"5G didn't exist at that time," Wood said.
5G technology, which promises revolutionary internet speed and telecommunications, is also a source of controversy and conspiracy theories. It began to expand commercially worldwide in 2018, almost a decade after Wood's photo was posted online.
The fake Arizona cactus
The crane in the full image belongs to US business Ross Equipment Rental, which, according to their website, operates in three Arizona cities: Phoenix, Tucson and Prescott.
The image caption in the Arizona Daily Star article indicates that the cell phone antenna was installed near Sunrise Drive.
Searching the Antenna Search portal, which maps cell tower installations in the United States, for Sunrise Drive in Tucson results in the record of a 34-foot structure on the street belonging to telephone company T-Mobile, registered in 2009.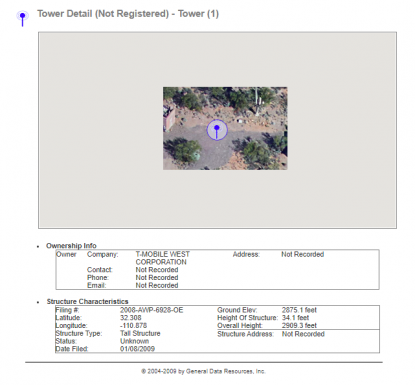 Screenshot of Antenna Search results, taken on June 5, 2020
"This is a T-Mobile site," a company representative confirmed in an email. "There have been no upgrades on this site for a number of years, this photo is not current. The camouflage is to ensure compliance with the local permits specific to this site, it is not intended to 'hide' the cell site for any other purpose."
Covering cell towers with fake trees and cacti is popular, and some city ordinances even require builders to "minimize adverse visual effects." Various US companies offer this service.
AFP Fact Check has debunked several false claims about 5G, available here and here.
This article was translated from Spanish by Claire Savage in Washington.